5k walk fundraises for Bucknell Brigade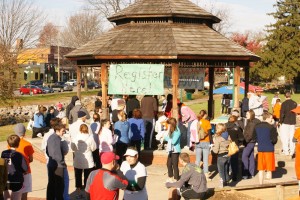 By Olivia Seecof
Writer
Members of both the campus community and the greater Lewisburg area participated in a 5K (3.1 mile) race last Sunday with one goal: to make it Managua, Nicaragua.
The Bucknell Brigade sponsored the race to raise funds to support the free health clinic the group established in the community of Nueva Vida, Nicaragua.
Event coordinators Danielle Alaimo '12, Carolyn Breden '12, Devin Geary '12 and Katie McAvoy '13 decided the fundraiser needed an attractive theme to unite all involved communities. They decided to have the greater Lewisburg and Bucknell communities literally run or walk the distance to Managua, according to Alaimo and Breden.
The exact distance between Lewisburg, Pa. and Managua, Nicaragua is 2073.9 miles, which amounts to 669 people running or walking a 5K.
Participants could either attend the race or pledge to run a 5K on their own time in the gym or at home. Combining at-home and day-of participants, over 200 participated in the race, amounting to one-third of the distance to Managua.
The event raised over $2400, which will go directly towards the Bucknell Brigade's work in Managua—specifically the free health clinic.
"To have so many people from both the Bucknell and greater Lewisburg communities come together to support the health clinic that benefits so many of our friends in Managua, Nicaragua was a very inspiring sight," Breden said.
Alaimo said that the race was a success.
"We are so thankful that this event was successful in both raising awareness and funds to support the Bucknell Brigade's mission in Nicaragua," she said.
Though the formal race is complete, interested campus and community members can participate by completing a 5K by Nov. 14.
(Visited 123 times, 1 visits today)