Fall Dance Showcase to open tomorrow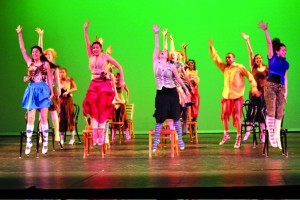 By Katie Monigan
Arts & Life Editor
This year's fall dance showcase is larger and more professional than ever—evidence of the growth of the dance program as a whole.
The showcase will use the same framework as in the past, but this semester will feature more than 60 dancers, 20 dances, two acts and at least a dozen genres of dance.
A big change this year comes from the choreographers' dedication to professionalism. According to co-student director Leigh Bryant '11, each of the student choreographers had to submit a proposal detailing the number of dancers they would need, the genre, staging and whatever other accommodations they would need before beginning casting. In addition, the choreographers attended rehearsals to ensure their pieces were on track.
"It brings a higher standard to the show, which creates higher confidence in our work," Bryant said.
In addition to their growth in professionalism, the program seems to have grown in sheer numbers as well. Lindsay Machen '11, who has danced for all four years of her University career, was appointed rehearsal director for an additional large piece that accommodated extra dancers with the desire to perform. The dance is called "Smoke Rings," and Machen performed in this piece as a first-year. It involves 13 dancers, making it one of the largest pieces in the showcase. The piece features robotic movements that are not physically difficult to master but are amusing to watch.
The showcase consists of dances from a variety of sources. Several are simply cast early in the semester and rehearsed for an hour or two a week, like ballet and jazz numbers. Others are classified as "residencies," choreographed by guest artists and learned and staged from start to finish in one weekend. Rosie Dimal '14 recently experienced her first residency and was shocked by the number of hours required.
"It was a lot more dancing than I was used to doing in high school," Dimal said. "We were dancing for about four hours Friday, eight hours Saturday and six on Sunday."
The residency focused on a piece choreographed by alumna Yabei Chen '09.  Abbie Dearman '10 also returned to choreograph.
In addition to regularly cast and rehearsed pieces and the residencies,  University groups like the Irish Step dancers and Jelani will also perform.
"The groups get to showcase their talent, even though some don't have an independent show in the fall. This way the audience gets to know who they are, and they don't have to coordinate or spend money on having their own show," co-student director Abbey Mason '11 said.
The showcase is a big time commitment for all dancers involved, but it brings the department together as a cohesive group.
"Over the years, you see this community grow, and you understand the work," Bryant said. "When you watch someone perform, it's rewarding to see, because you know how much work they put in."
The Fall Dance Showcase is tomorrow only at 2 and 8 p.m. in Harvey Powers Theatre in Coleman Hall. Tickets are $4 cash at the door.
(Visited 71 times, 1 visits today)