Darius Rucker and Eli Young Band to perform Spring Concert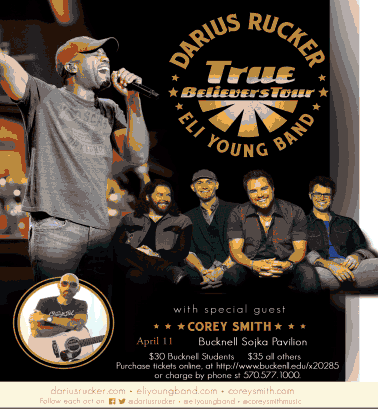 The Concert Committee announced that Darius Rucker and the Eli Young Band will perform at the annual Spring Concert on April 11 in Sojka Pavilion.
After a decision in fall 2013 to combine the fall and spring concert budgets, Darius Rucker, best known for "Wagon Wheel," and Eli Young for "Crazy Girl," will continue the University's tradition of hosting a wide range of musical talent.
"The Concert Committee decided that a country concert would be something new to bring to Bucknell. It is a popular genre on campus and in the surrounding community. We had a tough year last year with Avicii and Lupe Fiasco, but the committee is confident that Eli Young Band and Darius Rucker will perform quality acts," chair of the Concert Committee, Joanna Gavin '14, said.
The doors will open at 6:30 p.m., a slightly earlier start time than previous years in order to accommodate the lineup, which will include an opening artist, Corey Smith. Smith, a country/blues singer, songwriter, and guitarist, is most known for his song "Twenty-One" which was released in 2011. The concert itself will start at 7 p.m.
The Concert Committee took a different approach to advertising the concert. Former Concert Committee public relations chair Jacob Perlmutter '15 introduced the idea of an announcement video to increase both student and public interest. In addition to the announcement video, which is currently available on YouTube, the Concert Committee also sent surveys to the student body, asking about music preferences.
"We felt that the greater Lewisburg community would attend a country show, which would also add to the event's success," Perlmutter said.
University students will be able to purchase tickets for $25 today at 12 p.m. Tickets will go on sale to the public for $30 on Jan. 29 at 10 a.m. Tickets can be purchased at the CAP Center and Campus Box Office locations (Weis Center for the Performing Arts and Barnes & Noble at Bucknell).
(Visited 222 times, 1 visits today)