Professor Tillman earns research award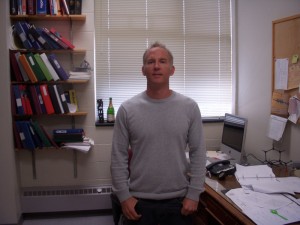 By Christina Oddo
Writer
Eric Tillman, associate professor of chemistry, is a passionate teacher, collaborator and researcher of polymers here at the University.
Tillman grew up in Southern California and attended California Polytechnic State University in San Luis Obispo as an undergraduate. He then attended the University of Southern California and received his Ph.D. in chemistry. At the time he received his Ph.D., Tillman was specializing in organic and polymer chemistry. He worked on polymer-sensing devices as a postdoctoral scholar at California Institute of Technology.
"When looking for academic positions, I focused on universities that emphasized both teaching and scholarship equally," Tillman said. "It was important that I be able to teach advanced courses in my areas of interest (mechanistic organic and polymer synthesis), as well as carry out meaningful research involving undergraduates." The University provided exactly the type of community Tillman was looking for.
Tillman's main area of teaching is organic chemistry but he also teaches advanced courses in organic chemistry and polymer synthesis.
Tillman currently works with two masters students and seven undergraduates in his research lab. Their research involves the synthesis of cyclic polymers, reactions of polymer radicals and stereocontrol over the polymerization reactions.
Recently, Tillman's research group had two papers accepted for publication. Overall, Tillman's group has published 17 peer-reviewed papers since he arrived at the University in 2002 in journals such as Polymer, Macromolecular Chemistry and Physics and the Journal of Polymer Science.
This October, Tillman presented his work at a Dreyfus Foundation Teacher-Scholar Symposium in New York as a Henry Dreyfus Teacher-Scholar. This spring, Tillman will be presenting his research on cyclic polymers at a National American Chemical Society meeting in Anaheim, Calif.
"A major direction of our future research is towards carrying out polymer reactions with minimal metal content, or 'green' methods," Tillman said. "For this, we use environmentally friendly reducing agents like glucose or ascorbic acid in place of elemental copper as reducing agents."
Besides his immense passion for the sciences, Tillman enjoys competing in triathlons. He likes to listen to Bob Dylan and play the guitar. He also loves to play softball and spend time with his kids.
(Visited 185 times, 1 visits today)