Athlete of the Week: Shelby Romine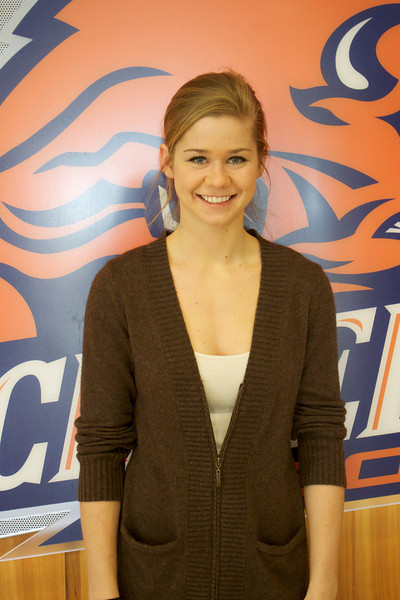 As the lone senior on the women's basketball team, Shelby Romine '14 has been a true leader in what has been one of the best seasons in recent memory for the Bison. Her clutch performances have solidified her spot as one of the best players in the Patriot League.
After trailing by as many as 14 points against Holy Cross on Feb. 8, Romine shouldered the burden for the Orange and Blue by scoring 17 points in the second half and pulling down 11 rebounds to complete the double-double and ignite the Bison faithful.
"Everyone stepped up and contributed down the stretch. We're hard to guard when we're being aggressive, and I think making the commitment to be in attack mode in the second half allowed us to rally back," Romine said.
Being the only senior on one of the top teams in the Patriot League could be a bit of an ego boost for many players, but Romine understands that a team effort ultimately leads to wins. Along with Romine, fellow co-captain Audrey Dotson '15, Claire DeBoer '17, and the rest of the team have all made significant contributions to what has been a phenomenal season.
"Being honest, it really doesn't feel like I'm the only senior. Everyone is here because we all want to win, no matter what age. As far as the leadership aspect goes, the team works incredibly hard and Audrey [Dotson] has been a huge help. They make it easy for us!" Romine said.
In addition to the win over Holy Cross, Romine produced back-to-back clutch performances at home in January. She nailed a game-tying layup that forced double overtime in what would eventually be a heartbreaking loss to defending Patriot League Champion Navy on Jan. 15. Against Army, Romine drove the length of the court and shot the ball over the hands of two defenders to sneak a victory over the Black Knights on Jan. 18.
"This season has been really special for me because of the team. Everyone meshes really well and we have a lot of fun together. They are what make the experience so enjoyable," Romine said.
As the three-time co-captain and 2012-2013 All-Patriot League second team selection continues to dazzle Bison fans and stifle opposing guards, Romine looks to complete her senior season with a Patriot League Championship.
"I can't get sentimental yet," Romine said. "We still have the best part of the season yet to come!"
Stats:
Height: 5'9"
Position: Guard
Hometown: Centreville, Va.
Field Goal Percentage: .412
3 Field Goal Percentage: .412
Free Throw Percentage: .771
Rebounds: 139
Assists: 102
Steals: 27
Points: 343 (14.9 PPG)
(Visited 563 times, 1 visits today)