Kal Penn engages campus community in Student Lectureship Series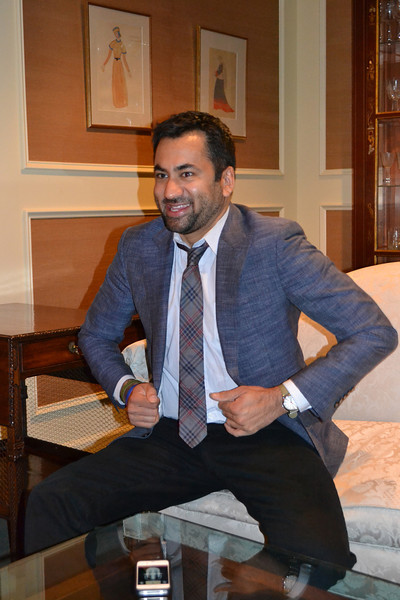 Actor and former Associate Director of the White House Office of Public Engagement Kal Penn spoke of his experience working both in Hollywood and as a civil servant during his lecture entitled "A Conversation about Civic Engagement in America Today" on Feb. 24 at the Weis Center.
Penn, who worked at the White House during President Barack Obama's first term, spoke fondly of his time in Washington.
"It was a rough two years and I loved every minute of it," Penn said.
Aside from sharing personal anecdotes about his acting and political experiences, Penn also gave advice relevant to college students. He encouraged students to not accept that the world is not "malleable" and embrace the fact that their interests may change.
Penn, who is well-known for his acting roles in the "Harold and Kumar" film series, "The Namesake," "House," and "How I Met Your Mother," has balanced careers in  film,  television, and politics.
Penn recalled several stories about his career experiences that resonated with students, including meeting Obama and working on passing an executive order. Implementing comedy within his stories garnered a positive response from the lively audience.
While in the Office of Public Engagement, Penn worked specifically with youth and the Asian and Pacific Island communities, groups to which he is personally connected.
During his time in Washington Penn also learned how to deal with painfully slow processes that occur in politics, business, and other industries.
"[Working at the White House] made me patient but not complacent," Penn said.
He also said that his career transitions are not incredibly unique. Many people, he said, put their careers on hold to work for an administration they believe in.
Overall, the Student Lectureship Committee believed that Penn's lecture was well-received by students.
"Kal has the wonderful combination of intelligent, funny, and personable," Student Lectureship Committee Public Relations Representative Emily Conners '14 said.
Lizzie Kirshenbaum '14, the co-chair of the committee who introduced Penn, agreed.
"The enthusiasm in the audience provided me with the confidence to introduce him without feeling nervous," Kirshenbaum said. "I think the lecture successfully stirred a dialogue on campus concerning politics and civic engagement in a way we have not previously experienced."
(Visited 504 times, 1 visits today)