Bison Athlete of the Week: Cydnee Sanders '15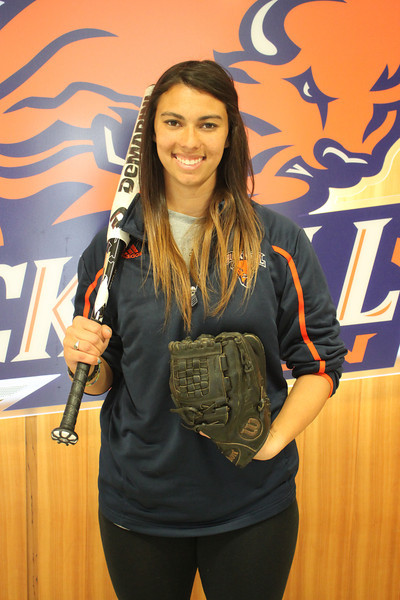 With strong offensive efforts and shutdown pitching, the Bison won two of three games in their opening series of Patriot League play against Army. Shortstop Cydnee Sanders '15 helped lead those impressive performances. Not only has Sanders led the team in several offensive categories for the year, but lately she has been on fire in the diamond.
After falling 7-1 in the first game of conference play on March 22, the Bison turned it around to win their next two games in a convincing fashion. In game two, Sanders hit her first home run of the season in the third inning, a two-run blast that sent the opposing starting pitcher to the bench. She then added another RBI in the bottom of the sixth with a liner to left field. Sanders was 2-for-3 in the game, registering one run, three RBI, four putouts and one assist as the Bison won 7-2.
The Orange and Blue finished the series with another 7-2 victory on March 23, and Sanders performed even better. After falling behind early, Sanders drew a walk and stole second base. She eventually scored the tying run on Kristen Zahn's '15 double later in the inning. The Bison were up 4-2 in the bottom of the sixth when Sanders built that lead with a few insurance runs. After two Army errors left the bases loaded, Sanders belted a shot to the gap in right-center field, clearing the bases and leaving her standing on third base. Batting third in the order, Sanders finished 3-for-3 with two runs, three RBI, and five assists.
"It was great for the team to start off Patriot League play by winning the series. Even if our record hasn't shown it, the team has been working hard and has been playing great. The best part about this weekend was finally putting everything together and winning the series in return," Sanders said.
Sanders' 5-for-11 weekend with three runs and six RBI only added to her already stellar 2014. One of five Bison to start all 22 games this season, she leads the team in hits, runs scored, triples, and stolen bases. Even with these superb stats resulting from her hard work, Sanders knows that both she and her teammates need to play together as a team in order to sit at the top of the Patriot League standings.
"As for goals, the team has made it our mission to win every series, so we are definitely heading in the right direction! I am so excited for this season, as we work together to reach our goals," Sanders said.
The Bison were 7-12 heading into their first conference competition, an improvement over last season's mark of 6-17. Three games into the conference schedule, the Orange and Blue trail only Lehigh in the Patriot League standings.
Bio:
Junior
Position: SS
Bats: Left
Throws: Right
Hometown: Magnolia, Texas
2013 First Team All-Patriot League
2013 Academic All-Patriot League Team
2014 Stats:
.458 batting average (33/72)
.500 on-base percentage
18 runs
14 RBI

5 stolen bases (100 percent)
.569 slugging percent 

.943 fielding percent
(Visited 176 times, 1 visits today)