Car crashes into Ward House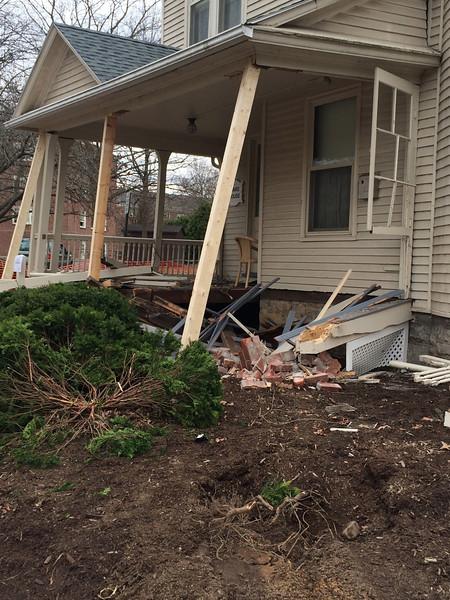 Kerong Kelly, News Editor and Assistant News Editor
April 17, 2014
A car crashed into Ward House, located on the corner of Sixth Street and St. George Street on April 11.
The crash happened around 5 a.m. when the identified driver, Alexander Saralegui '16, struck Ward House, decimating the entirety of the front porch.
Raj Thangavelu '98 was on campus for the Bucknell Public Interest Program Summer Fund interviews and was staying in Ward House at the time of the incident. The University promptly found Thangavelu and other Ward House guests other accommodations.
"[Upon impact], I was awoken out of bed when Ward House shook hard enough that I actually rolled out of bed. Eventually I made my way outside and was shocked at the damage to the porch–the car/SUV was still there. The tow truck finally came and I don't think I'm going to forget the sound of the metal car being dragged out of the porch anytime soon," Thangavelu said.
Under the jurisdiction of the Buffalo Valley Regional Police Department, charges have not been filed against the driver as of now. Police Chief Paul Yost said the results of the toxicology screen will take at least two weeks to process.
Saralegui suffered no major injuries. Ward House is currently under inspection, a process that will take about a week. University Facilities refused to comment on the state of the house or on the cost of the damages.
"I felt really bad for the facilities and related staff. Over 20 years of being associated with the school, I have come to know of the pride they take in the work and the outstanding job they do on making Bucknell as beautiful as it is," Thangavelu said.
(Visited 1,347 times, 1 visits today)