Bison Athlete of the Week C.J. Williams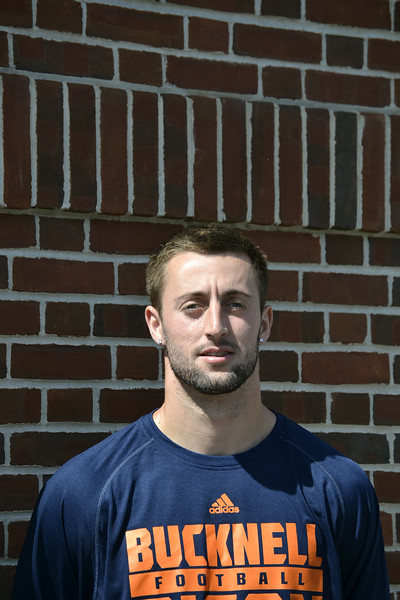 Jen Lee , Assistant Sports Editor
September 5, 2014
On a night full of big plays and personal bests, running back C.J. Williams '17 came up even bigger than the rest. Helping lead the football team to a 42-38 victory in its home opener against Virginia Military Institute, Williams looked like a seasoned veteran under the lights.
With the game tied as the second quarter was winding down, Williams snuck up the middle, breaking through the line for a 49-yard run. This run placed the Bison offense on VMI's 26-yard line. After a completed pass brought the Bison to the one-yard line, Williams punched the ball in for the score.
Williams' clutch performance only improved after halftime. When VMI answered the Bison's late second quarter touchdown with one of its own, Williams took the ball for a 48-yard carry. This set up his second touchdown of the night, a three-yard burst into the end zone to put his team back up by seven.
Williams finished his multi-touchdown game running for a career-high 164 yards. He accounted for two of the Bison's six touchdowns, each occurring at a clutch moment to break open a tie game. When reflecting on his effort, Williams credits his teammates.
"It all starts up front with the line," Williams said. "They made it very easy to run Saturday night, blocking linemen and blowing them up, as well as the tight ends, fullbacks, and wide receivers."
Although his collegiate career is still young, Williams' stats are similar to those rounding out a four-year career. As a sophomore, the first game of this season marked Williams's fifth career 100-yard rushing game, pushing his career total to 1,063 yards.
This impressive opening performance by the star running back comes as no surprise after his outstanding rookie season in 2013. Playing 10 games and starting in seven, Williams ran for over 100 yards four times, totaling 899 rushing yards. He also showed off his range in a few games, catching 12 passes–three for touchdowns–for 130 yards. His 1,029 all-purpose yards for the season amounted to more that twice that of any teammate. With 11 total touchdowns in a season, he ranked ninth on the all-time single season record list for Bison.
His dominant performance in his rookie season earned him a Second Team All-Patriot League selection, along with being named to the Jerry Rice Award Watch List and the CFPA National Freshman Performer of the Year Watch List. Williams also earned the Bison's Big Blue Award for an outstanding back or receiver.
After such a successful first season, Williams looks to take the team one step further this year.
"My goal for this year is to win a Patriot League Championship, and to do my part to put my team and I in the best situations possible," Williams said.
Williams applauds the Bison's strong overall team effort, along with the instruction and dedication of head coach Joe Susan.
"It's nice to have all of the hard work we put in over the summer pay off and continue to pay off game by game," Williams said.
Bio:
Hometown: Cockeysville, Md.

Position: Running Back

Height: 6'1"

Weight: 205 pounds
Stats vs. VMI:
17 carries

164 rushing yards

9.6 yards per carry

Two touchdowns

Long – 49 yards
(Visited 173 times, 1 visits today)