Bison crowned champions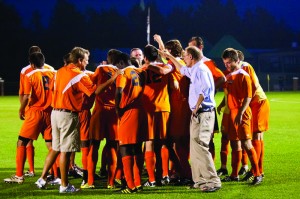 By Joe Ruby
Writer
The men's soccer team won its second consecutive Patriot League Championship, defeating American 2-0 in Hamilton, N.Y. to take the title. In the semifinals, the Bison took Colgate 1-0 in a huge road upset. Ross Liberati '11 netted both goals in the final, with the only tally in the semifinal coming off the boot of Josh Plump '13.
Against third-seed American (7-9-3, 3-3-2), the Bison, who needed help on the final day of the regular season to even qualify for the tournament, immediately took advantage of their opportunities.
Just 2:03 into the match, Tommy McCabe '11 sent a free kick into the box, and Liberati broke free to put the ball past goalkeeper Matt Makowski, giving the Bison a 1-0 lead. Less than 19 minutes later, McCabe took another free kick and once again found Liberati for the header at the 20:55 mark. The goals were Liberati's fourth and fifth of the year.
Marc Hartmann '12 saved both shots on goal he faced, while Makowski saved four of the six shots the Bison put on goal. American defeated the Bison 3-1 when the two teams met in September.
The Bison started the tournament by upsetting top seed Colgate (8-6-5, 5-0-2). After a scoreless first half, the Raiders' sloppy play caught up with them in the 50th minute. CK Kumah '13 sent the ball past the Raiders' defense, and Plump sprinted to the spot and fired the ball in for his fifth goal of the year.
Colgate unleashed a barrage of shots over the final 40 minutes but could not keep them on target. The Raiders amassed 16 shots in total but only put two on goal, whereas the Bison put all five of their shots on the net. Hartmann saved both shots he faced. The loss was the Raiders' first in Patriot League play this season.
The Bison took advantage of a surprising Patriot League tournament in which the higher seeds were scoreless in each game. The two tournament games were the Bison's first consecutive shutouts of the season. The Orange and Blue both scored and allowed the most goals per game in the Patriot League this season.
With the win, the Bison head into the NCAA Tournament. The Orange and Blue defeated Princeton in the opening round of the tournament last season before falling to eventual champion No. 2 Virginia.

[Editor's Note: The Bison took on No. 18 Penn in the first round of the tournament on Thursday night after The Bucknellian went to press. The winner of that game will travel to face No. 2 Maryland on Sunday.]

(Visited 73 times, 1 visits today)