Bison Athlete of the Week: Montana Paley '17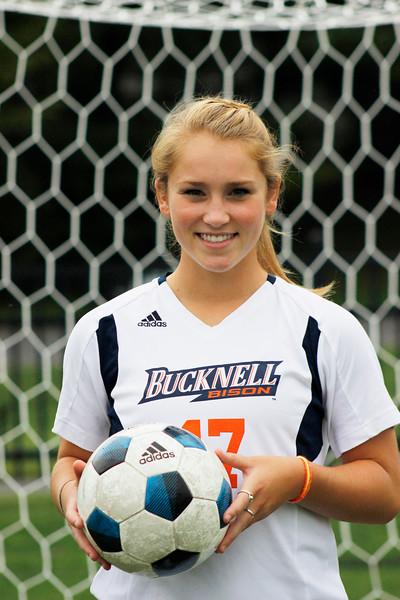 The women's soccer team recorded 30 shot attempts against Robert Morris on Sept. 5, but it took one final strike by defender Montana Paley '17 in the 85th minute to give the win to the Orange and Blue. The moment was particularly special since it was her first collegiate goal.
"The relief my teammates, coaches, and I felt after my shot finally went in was immense, especially since we were unable to capitalize for 85 minutes with 30 shots, which included multiple posts," Paley said.
Paley has been a dependable player for the Bison, and this stems from the experience she gained last season. Appearing in all 18 games, Paley started in 14 of them at left back. Her endurance and toughness are also evident, as she played 10 full 90+ minute games and took part in six shutouts.
Paley's goal emerged under humid conditions in Lewisburg and was the last shot attempt for the Bison. Due to the weather, head coach Ben Landis reached deep into his bench and utilized 21 players in his rotation. Paley played for 40 minutes and scored on her only attempt of the game.
"Scoring a game winner as my first collegiate goal definitely is a confidence boost, considering I am a defender, which means I was impactful by getting upfield into the attack," Paley said.
Meghan Holtz '18 and Danielle Piccirilli '16 were credited with the assist to Paley, but not after Cassie Denger '15 engineered a give-and-go play with Holtz that set the play up. Holtz sent the ball twice into the box, where Piccirilli dished it to Paley. Paley then blasted an 18-yard kick inside the right post for the game-winning goal.
"Securing a victory over Robert Morris on home turf is hopefully going to power the momentum we need to reach our team goal of being above .500 and ranking top-two in the Patriot League," Paley said.
The Bison rode the momentum from Paley's goal to a 7-1 home victory over Mount St. Mary's on Sept. 9, a game in which they attempted 32 shots. Paley was credited with an assist on the last goal by Kendall Ham '18. 
Paley and the rest of the Orange and Blue hope to extend their win streak in Florida, where they meet Stetson tonight and Jacksonville on Sept. 14.
Bio:
• Position: Defender
• Hometown: Northbrook, Ill.
• High School: Glenbrook North
Weekly Stats (vs. Robert Morris, vs. Mount St. Mary's):
• 77 minutes played
• 3 shots
• 1 goal
• 1 assist
• 3 points
• 1 shutout
(Visited 735 times, 1 visits today)