Men's swimming 3-1 in Patriot League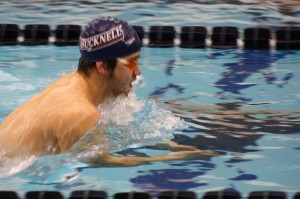 By Andrew Arnao
Contributing Writer
The men's swimming and diving team flattened Colgate in a 160-52 victory on Saturday, improving to 5-1 on the year and 3-1 in the Patriot League.
After finishing second in the quad meet against Navy, American and Lafayette the previous week, the Orange and Blue knew they could compete with Colgate this week.
"We came out strong last week with our quad meet … and we wanted to transfer that energy over into this week," Jonathan Podniesinski '12 said.
Podniesinski won the 500-yard freestyle by 4.88 seconds with a time of 4:45.96 and the 1,000 freestyle by 8.07 seconds with a time of 9:50.15.
The Bison defeated Colgate in every event except the 200 freestyle relay, in which they missed first by .55 seconds. They started strong by claiming the top two spots in four of the first five events and had at least two finishes in the top three spots for every event. The Bison fared especially well in the 200 free, 200 back and 500 free, where they won the top three spots.
"I think that overall it was our best performance as a team so far this year, with everyone doing their job from top to bottom and not easing up even as our lead increased," Mike Nicholson '14 said.
Nicholson, a first-year standout, went on to easy victories in the 400 individual medley (4:03.78 seconds) and the 200 breaststroke (2:07.63 seconds), giving him nine wins so far this season.
Eric Sokolosky'12 and Matthew Segar '12 also claimed two wins each. Sokolosky sprinted his way to season best times in both the 50 free (21.01 seconds) and the 100 free (46.75 seconds). Segar took first in both the 200 free (1:42.38 seconds) and the 200 fly (1:55.03 seconds).
"It was our goal going in, and one which we attained, to perform well against these individuals and continue our consistent improvement week to week," Sokolosky said.
"Hopefully we'll carry the momentum into this weekend at the Rutgers Invitational," Segar said.
Dave Magaro'13, the only men's diver for either team, finished with a score of 242.03 for the one-meter diving.
Magaro was named the Patriot League Male Diver of the Week and Nicholson was named Patriot League Male Swimmer of the Week.
The Bison are in second place in the Patriot League with 646 points, behind first place Navy by 401 points. They lead third-place Army by 117 points and fourth place Lehigh by 219 points.
Next week the Bison will compete in the three-day Rutgers Invitational, which will be held Nov. 19-21.
(Visited 81 times, 1 visits today)