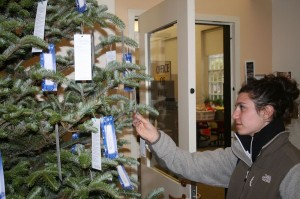 By Olivia Seecof
Writer
The Office of Civic Engagement offers the University two large community service projects during the current holiday season: The Turkey and Trimmings Holiday Baskets and The Giving Tree.
Story continues below advertisement
The University has been supporting the greater community with these specific service projects for the past five years and hopes to continue a lasting relationship with the organizations in which they help.
"[During] this time of year it is especially heartwarming to see the generosity of our Bucknell community to others that are less fortunate," said Lynn Pierson, assistant director for community service.
The Thanksgiving baskets include a gift certificate for a turkey and all of the Thanksgiving favorites like stuffing, potatoes and cranberry sauce. Thanksgiving-themed decorations and linens are also encouraged as additions to each basket.
Last year, the campus community put together and delivered 190 baskets to local families.
Many residence halls participate in the event, and Greek members can receive community service hours for their participation in making the baskets. The baskets were delivered to local families on Nov. 18.
The Giving Tree, located in the library lobby, allows members of the University community to select a "snowflake" and purchase a holiday present for the specified recipient.
"I like that the Bucknell community includes people of all ages—from toddlers to adults to senior citizens, in their community service efforts,"  Steph Thomas '13 said.
The requests of the snowflakes range from necessities, such as blankets and clothes, to more enjoyable toys and games.
"My snowflake is a seven-year-old boy who wants Transformer toys, and I can't wait to buy them for him," Olivia Cohen '14 said.
This year, 17 agencies are requesting holiday gifts, so there are many snowflakes remaining on the Giving Tree. Some of the agencies represented on the tree are the Danville State Hospital, Children's Choice and the Salvation Army.
Even though the Thanksgiving Turkey and Trimmings Holiday Baskets project is complete, there is still an opportunity to purchase a holiday gift for those less fortunate.
Greek members can receive philanthropy credit for their participation in the Giving Tree. Gifts are due by Tuesday, Nov. 30, 2010 to the Office of Civic Engagement.
(Visited 59 times, 1 visits today)