Berliner Jazz Sextet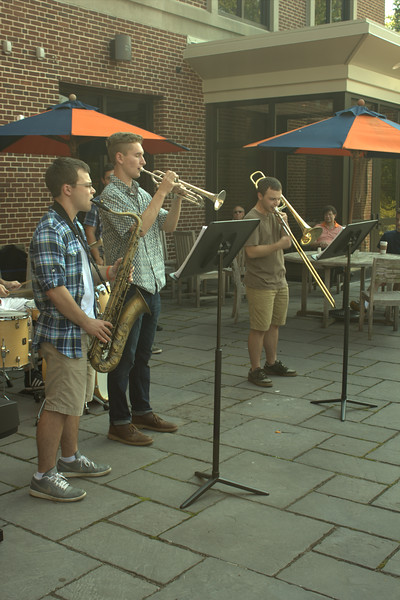 The Berliner Jazz Sextet kicked off the University's Arts Everywhere Festival with jazz and soul classics on the Elaine Langone Center (ELC) patio on Sept. 5.
The Berliners, who are named after brothers Josh Berliner '15 and Zach Berliner '15, entertained an intimate crowd of students, faculty, and community members outside the Bison. The event's crowd started off a little bit small, but as people walked out of the ELC and heard the music, the crowd began to build.
The audience was captivated by the performance, and many people were dancing to the music from their seats. During their final tune, the saxophonist and trombonist had an intense solo battle that the audience loved.
Aaron Wilson '15, who played the tuba with the Berliner Jazz Sextet this weekend, believes that the University's Arts Everywhere Festival is a wonderful outlet to showcase talent and bring interest to the arts.
"So many students have an artistic talent that not many people know about because they are not able to display them. For example, it's not often that tuba is in a jazz combo, but I was able to do so this weekend. I now want to continue playing in ensembles like this," Wilson said.
(Visited 105 times, 1 visits today)