North Mississippi Allstars bring a taste of the South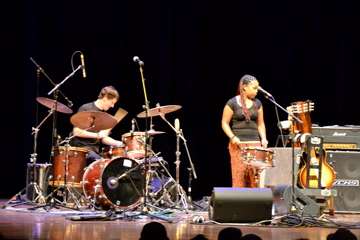 The North Mississippi Allstars brought a taste of the Mississippi blues to central Pennsylvania on Sept. 26 at the Weis Center for the Performing Arts.
The Allstars are a southern blues-infused rock band from Mississippi that was founded in 1996. The Allstars are primarily made up of brothers Luther Dickinson on the guitar and vocals and Cody Dickinson on the drums, keyboard, and electric washboard. The Weis Center performance also featured two other musicians, Lightnin' Malcolm on the bass guitar and Sharde Thomas on the fife and vocals.
The Allstars wowed a large crowd of University students and their families with a mix of intense blues and rock 'n' roll along with a few slower songs. The concert featured some of the Allstars' biggest hits, such as "Mean Ol' Wind Died Down" and "Shake 'Em on Down."
Midway through the performance, the Allstars left the stage during the song "Granny, Does Your Dog Bite" and marched through the aisles of the Weis Center while playing the drums and the fife. The Allstars really connected with the audience, and Cody even left his drum with a member of the audience before returning to the stage.
The brothers also amused the crowd by playing some unique instruments. For some songs, Luther transitioned from his guitar to a two-string, coffee-can guitar, and Cody thrilled the crowd by performing an exhilarating solo on the electric washboard.
University students and families really seemed to enjoy this little sample of the South.
(Visited 117 times, 1 visits today)