Police report procedures put to the test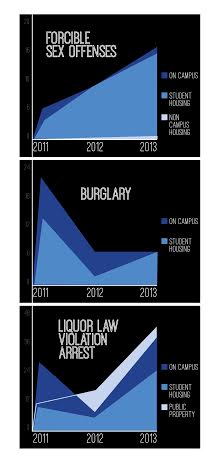 Hang on for a minute...we're trying to find some more stories you might like.
The Department of Public Safety released its Annual Security and Fire Safety Report on Oct. 1. The alert notification protocols laid out were put to the test when a shooting occurred nearby off campus. A comparison of the 2011 and 2013 criminal offenses statistics revealed that aggravated assaults, burglaries, and arson incidents decreased whereas liquor and drug related violations, sex offenses, and robberies increased. Most of the fire incidences recorded in 2013 were unintentional. Four of the seven fires that year were caused by cooking/stove accidents.  "The main reasons we publish these statistics is to be transparent and allow perspective and current students to know what's going on around campus," Chief of Public Safety Steve Barilar said. It is hard to discern whether the increase from 18 sex offenses in 2012 to 32 in 2013 is due to a higher incident rate. "We have to be careful not to let numbers alone tell the story…. What we do know is that due to educational efforts on many fronts, individuals are more aware of their obligation to report sexual misconduct when they learn of those incidents and the resources available to victims," Compliance Officer and Title IX Coordinator Barbara Martin said. Several adjustments and additions were added to this year's police report after the passage of the federal Violence Against Women Reauthorization Act (VAWA). The report included new statistics about dating violence, domestic violence, and hate crimes, according to Martin. "We've also added … more detailed descriptions of the University's procedures following reports of sexual assault, stalking, or dating and domestic violence, along with more information on Bucknell's education and prevention programs," Martin said. Several of the emergency notifications procedures laid out within the report were deployed on Oct. 6 after the Buffalo Valley Regional Police Department (BVRPD) notified Public Safety about an off-campus shooting. Students received a string of emails and text messages that provided up-to-date information about the shooting, which occurred outside the Comfort Inn and Suites in Lewisburg. The suspect was uncooperative with the BVRPD and fled from the crime scene in a direction away from University. The investigation is still underway, and the shooter has not been identified. "The incident [had] nothing to do with Bucknell University or the Lewisburg Community and there [were] no injuries … Officers with BVRPD do not feel [the] individual is a threat to our community," Barilar said. The University's Communications Department assisted Barilar in updating social media sites with current news. "It was a joint effort … A lot of coordination was going on," Barilar said. On-campus police escorts were available to students and faculty who felt unsafe. The soccer field and baseball field lights were kept on throughout the night to increase visibility for the additional patrol officers. "Although we are safe here, crime does happen and we have to continue to be vigilant," Barilar said.

(Visited 118 times, 1 visits today)