Bison Athlete of the Week: Will Carter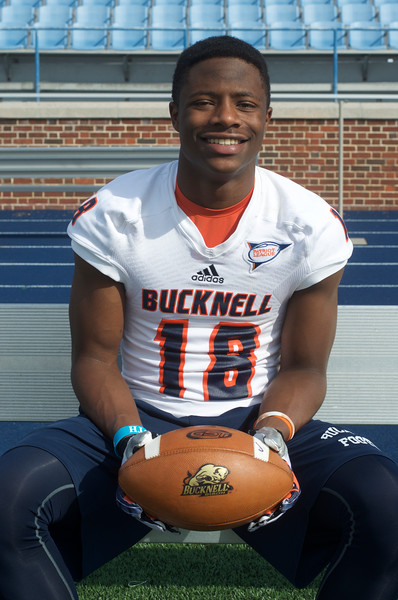 In what has been one of the greatest seasons in program history, the player with the hottest hands on the football team has been wide receiver Will Carter '17. The last two wins against Lehigh and Georgetown have been a testament to the impact that Carter has had on the Orange and Blue. He grabbed the game-winning touchdown against the Hoyas on Oct. 25 and had a career-day at Lehigh two weeks earlier.
"I am more comfortable about where we are as a team," Carter said. "We have won, some dominating and others close, which has given us great experience that shows no matter how we are playing, we can always win. We have battled a lot of adversity with injuries and other problems, but I feel that our team is strong enough to overcome anything we face."
Carter solidified his role as a leading receiver during his first year on the team. After being inserted into the lineup against Holy Cross last season, he registered seven receptions for 74 yards and a touchdown. Against Lehigh, his 130 receiving yards was the second-most by a first-year in program history. Carter finished the year with 33 receptions for 396 yards, the most in both categories for a rookie since 1987.
"Last year I was only a freshman, and didn't understand my role on the team. I now understand it because of my growing in maturity and experience," Carter said. "I now have accepted and embraced my role on this offense, which has enabled me to have the year I'm having."
Now in his second year, Carter continues to showcase his playmaking ability. He leads the team in receiving yards (608) and receptions (28). His most impressive game was against Lehigh, where he shattered numerous records. His 246 receiving yards was second on the program's single-game list and most in a single game since 1965. He also became the fourth player in school history to record three touchdown catches in a game, a feat that had not been accomplished since 1986.
After this performance, Carter earned Patriot League Offensive Player of the Week and National Wide Receiver Performer of the Week by the College Football Performance Awards (CFPA). His receiving yard total against Lehigh placed him fifth in Patriot League history and was the most by an FCS player this season.
Although he has had a dominant season, he understands the value of having an experienced, vocal leader by his side.
"I'm actually not the vocal leader in the receiving core, maybe just a 'lead by example' player," Carter said. "Our vocal leader is Josh Brake '15. He has honestly taught me a lot, and I wouldn't be where I am today without him and all the other receivers. We each bring a different aspect of receiving and combine them. This is why I think we are so effective, because some of our weaknesses are others' strengths and vice versa."
The Bison sit at 6-1 before their homecoming game against Lafayette on Nov. 1. Carter will look to continue utilizing his playmaking ability to achieve the ultimate goal of a Patriot League title.
Bio:
• Height: 5'10"
• Weight: 180 pounds
• Position: Wide Receiver
2014 Stats:
• 28 receptions
• 608 yards
• 21.7 yards per catch
• 101.3 yards per game
• 8 touchdowns
(Visited 179 times, 1 visits today)