"Dancing Mind Challenge" reaffirms importance of reading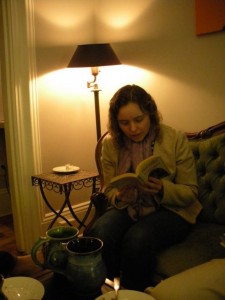 By Carolyn Williams
Writer
Over 100 individuals participated in the "Dancing Mind Challenge" on Nov. 20. The event, hosted by the Griot Institute for Africana Studies, the English department, Multicultural Student Services, the English Club, Library and IT, the University Press and the Bucknell University at Barnes and Noble bookstore was inspired by Toni Morrison's essay "The Dancing Mind," in which the Nobel Prize-winning author challenges her contemporaries to sit down, turn off their electronics and submerge themselves in eight hours of deep reading.
"People are more addicted than they think they are. Although technology is not inherently bad, we need to avoid cyber-dependency. Deep reading is good for the brain," said Carmen Gillespie, professor of English and director of the Griot Institute.
Readers spent eight hours in the Bertrand Library, the bookstore, the Willard Smith library, the lobby of Dana Engineering building or in their own rooms. Coffee and desserts were available for the participants, but Gillespie said one thing she would change for a future repeat of the event would be "to provide more nutritious fare." The use of audiobooks and whether or not they count for the challenge in the future will be considered since the audiobooks walk the fine line between technology and literature.
Time passed differently for each person involved.
"It's interesting to observe one's own perspective of time. After a while, most people get into a kind of a 'zone', but at the beginning it seems to have been tough," Gillespie said.
"Being unplugged from my phone was actually surprisingly easy. Once I was into my book, I hardly noticed it was missing," Kate Wilsterman '14 said. "It's funny because during a normal day, when I am busy I'm checking my phone every five minutes. It was great to be so focused for such an uninterrupted period of time."
Students also said it was a good opportunity to do some reading they had missed while completing coursework.
"The Griot read-a-thon was a really great experience. Not only did it give me a break from all of my classwork, it also let me catch up on a lot of the reading I've been missing out on, textbooks aside," Wilsterman said. "At college, you rarely have time to sit down and just read, but it's something that is so great for relieving stress and just generally relaxing. I was able to enjoy what I was reading, rather than worrying about all the other things I 'should' be doing," she said.
Overall, Gillespie said the project was a hit. She hopes to see the "Dancing Mind Challenge" become an annual event.
(Visited 113 times, 1 visits today)