Frankie Muniz performs at Uptown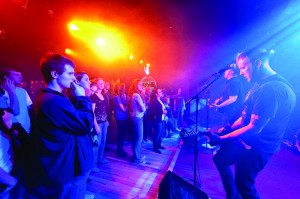 By Ashley Miller
Writer
In the early 2000s, Frankie Muniz was a household name, but then he seemed to disappear off the face of the entertainment world. On Nov. 20, Muniz reemerged as the drummer of pop-rock band You Hang Up during their performance at Uptown Nightclub.
After starring in the sitcom "Malcolm in the Middle" and in films like "Big Far Liar" and "Agent Cody Banks," Muniz entered the racing game in 2005. Now he is returning to the entertainment business through music. You Hang Up has been an undercover project since 2007. Aaron Brown sings lead vocals, Chris Brown plays lead guitar and Henry Ebarb plays bass.
You Hang Up opened with one of their most popular songs, "All of My Life," which maintains a generic pop-rock sound. The energetic, though sparse audience rocked out to the band's jams.
Many people snapped pictures of Muniz on the drums. It was certainly weird seeing "Malcolm in the Middle" with a beard, but it is clear Muniz's skills are not limited to acting. His drumming set a solid beat that complemented the heavy guitar riffs and vocals.
Jamey Roberti '11, also known by his rapper name CR Jameson, opened for You Hang Up. Roberti has been a part of the hip hop game for six years. The subjects of his songs ranged from his nicknames to an insightful look at his past. His rhymes were refreshing in their anti-drugs and anti-assault messages.
A few of Roberti's friends were there in the audience.
"I appreciate Jamey as a valuable member of this community," Stefan Petrovic '14 said, "and I think many people appreciate the contribution he gives us."
Despite the amount of advertising Activities and Campus Events did for the event, Uptown was pretty empty.

"I'm surprised it's so empty considering it's a pretty big night," Phillip Leite '14 said.
(Visited 63 times, 1 visits today)