Football loses to Holy Cross to end season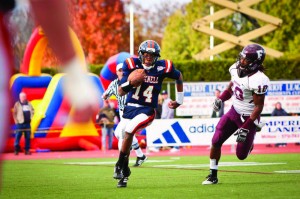 By Greg Stevenson
Senior Writer
The hopes of another season-ending upset of the Holy Cross Crusaders came up short for the Bison football team two weekends ago. The Orange and Blue struggled on both sides of the ball, dropping their 10th game of the 2010 campaign 34-9 at Holy Cross.
"I feel that the effort of our team against Holy Cross was consistent even though we faced a lot of adversity," Head Coach Joe Susan said. "The young men on our team kept playing very hard."
On their first two drives in the opening period, the Crusaders gained just one first down and were forced into three-and-outs twice, netting just 15 yards in the quarter.
The Bison offense charged out of the gates in the first quarter, sending the ball down the field on two promising drives. The Orange and Blue went 53 yards in 16 plays on their opening series following a Holy Cross punt, but a fumble by quarterback Brandon Wesley '14 caused the Bison to turn the ball over inside the red zone.
The second series ended more productively than the first. Starting from near midfield, Wesley and fullback Travis Friend '14 drove the offense down to the Holy Cross two-yard line before the offense stalled and was forced into a field-goal attempt.
Kicker Alex Eckard '14 gave the Bison a 3-0 advantage early in the second quarter. The lead was the Bison's first since the end of their contest against Georgetown on Oct. 16, the Orange and Blue's lone victory in 2010.
The advantage lasted just 11 seconds as Holy Cross returned the ensuing kickoff 75 yards for a touchdown.

Over the next 30 minutes, Holy Cross scored another 27 points, thanks in part to a pair of rushing touchdowns by quarterback Ryan Taggart. The Bison added a late touchdown to end the game and the season on a high note.
"We need to do a better job in protecting the ball and creating turnovers on defense," Susan said. "We have to improve our ability to cover kickoffs as we gave up too many yards. We must be a better third down team on both sides of the ball."
Despite finishing the year with a 1-10 record, the coaching staff sees many positives from this season that will help continue the development of the football team.
"I gained a lot of perspective on the level of talent in this league and where our primary needs are in recruiting," Susan said. "The experience our team gained is priceless as we build this program."
(Visited 60 times, 1 visits today)