Men pick up win against Columbia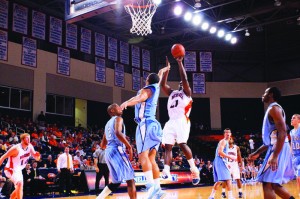 By Eric Brod
Senior Writer

The men's basketball team began a three-game homestand this week by splitting a pair of contests between Wagner and Columbia. The Orange and Blue won impressively Wednesday against the Columbia Lions 73-68, two days after losing to Wagner 77-73.
Despite shooting only 35.5 percent from the field, the Bison used a stifling defense and a turnover-free second half to get past Columbia 73-68 and improve to 3-6 on the still-young season. Darryl Shazier '11 paced the Bison with 15 points and five assists. Cameron Ayers '14 posted a career-high 14 points and forward Joe Willman '13 netted 13 points with seven rebounds in his return to the starting lineup. Columbia was led by Steve Frankosi, who scored 12 points on three of four shooting from beyond the arc.
After the Bison took a 40-30 lead into halftime, the Lions came out firing in the second half, scoring the first seven points of the half. With the Bison leading 49-46 with just over 10 minutes left to play, the Lions went cold, failing to score a field goal for the next seven minutes. Columbia was unable to overcome this stretch of solid defense, and was kept at arm's length for the rest of the game. Leading the defensive effort was Bryan Cohen '12, who held Columbia's leading scorer Noruwa Agho in check, who finished with 11 points on three of 10 shooting from the field.
On Monday night, the Bison were not able to keep pace with the hot-shooting Wagner Seahawks en route to a 77-73 defeat. Wagner shot 55.3 percent from the field for the game, led by Latiff Rivers, who scored 20 points. Teammate Tyler Murray contributed 16 points, 10 rebounds, and 7 assists for the Seahawks. Leading the Bison attack was Mike Muscala '13 with 22 points. Shazier tied his career high with nine assists for the game.
The Orange and Blue could not overcome an ice-cold first half in which they shot only 28 percent from the field and went almost 10 minutes without a field goal.

The men return to action Saturday night, completing their three-game homestand against Boston University. Tipoff is scheduled for at 7 p.m.

(Visited 55 times, 1 visits today)