Women's swim and dive captures first in the Bucknell Invitational for fourth consecutive season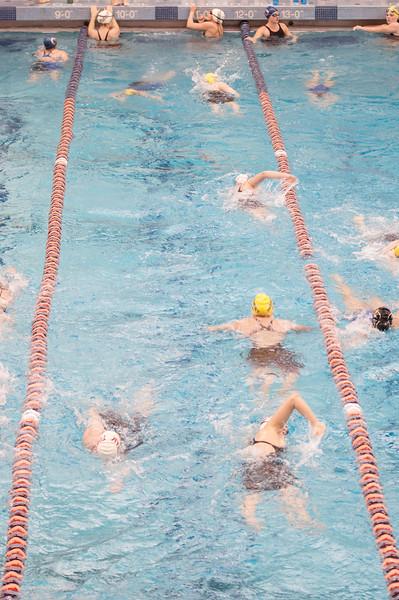 For the fourth consecutive year, the women's swimming and diving team placed first out of nine teams in the Bucknell Invitational on Nov. 21-23. Multiple records were shattered as the team garnered 1,631 points over the course of three days, defeating runner-up Fordham and third-place Georgetown. Most prominently, Emma Levendoski '16, Diana Hanson '17, and Julianna Foss '18 broke program records in the 200 back, 100 breast, and 100 and 200 fly, respectively.
​ The Bison were off to a strong start after the first day, grabbing the first-place slot right from the beginning. First-place finishes from Dani Potis '18 in the 500 free and Hanson in the 200 IM helped to bring in the points for the Orange and Blue. Aside from the first-place finishes, many Bison placed in the top-12 of the same two events, which raised the team score. Potis' finish placed her fourth in the program record books, while Hanson remains second in the records.
​The strong performances did not cease for the Bison on day two. Some of the most notable records were broken on the second day of competition. This included one by Foss that was particularly impressive because it broke the longest-standing school record, formerly held by University Hall of Fame athlete Margaret Grunow '93. The record for the 100 fly now stands at 55.25 seconds.
​Foss and Levendoski continued their success on day three as each placed first in their respective events. In total, there were 11 new entries in the record books for top-10 times, displaying the incredible depth on the team. Additionally, Emily Andrews '18 ranked fourth in program history in the 200 fly (2:06.04).
"We've been training really hard, so it is exciting to see so much success for our team," Andrews said. "We are only halfway through the season, so there is still a lot of room for improvement, but I am looking forward to even more success for our team as we get closer to championships."
The next event for the Bison will be on Dec. 6 when they host Colgate at 1 p.m.
(Visited 176 times, 1 visits today)