Athlete of the Week: Steven Kaspar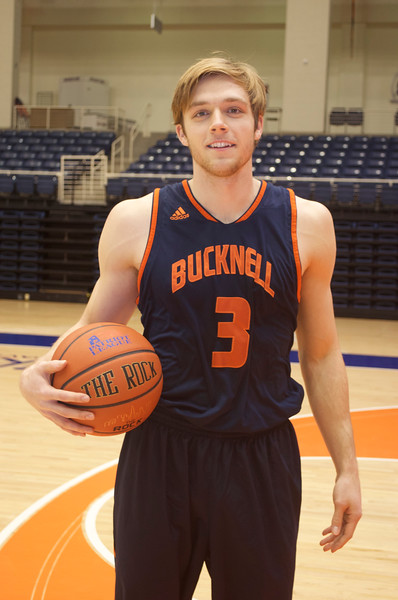 Two-time co-captain Steven Kaspar '15 entered his fourth and final season on the men's basketball team as the Patriot League leader in assists. The point guard from Lakeland, Tenn. has played in a total of 19 games this season, four of which he's started in. Kaspar is very versatile and a strong passer. He is a creative player, not only in games themselves, but also in his approach to the sport.
Kaspar is extremely motivated by the technicality of basketball.
"Before games, I like to prepare by watching film of other players that I might be guarding so that I know what to expect from them and know their tendencies and how they like to score," Kaspar said. Another pre-game ritual? "Before games, it's important that I get some coffee in my system," Kaspar said.
Every week, Kaspar tries to get in the gym or watch film with a coach outside of practice.
"It really helps with confidence in games and understanding what the team needs to do to be better in certain situations. As a captain it is important that I am able to lead the team on the floor and have a good feel for the flow of the game," Kaspar said.
In the game against Army on Jan. 17, Kaspar played extremely well. He clocked 28 minutes of court time in which he scored 11 points and six assists. He helped bring the Bison to an 81-75 victory.
Kaspar has yet to miss a game in the entirety of his basketball career as a Bison, which shows the true dedication he has for his team, the school, and the sport. Expect to see Number 3, Steven Kaspar, carrying out his final stretch of the season a Bison frontrunner.
Bio:
Class: Senior

Position: Guard

Hometown: Lakeland, Tenn.

High School: Evangelical Christian
2014-2015 Stats:
403 MIN

.464 FG%

.375 3P%

.714 FT%

47 REB

55 AST

5 BLK

16 STL

46 PF

28 TO

88 PTS
(Visited 460 times, 1 visits today)