AXO's Alpha Male Breaks Records!
On March 17th from seven to nine pm, Alpha Chi Omega broke records with its spring
philanthropy event, Alpha Male.
Alpha Male is a male beauty pageant between the fraternities on campus. One elected
brother representative faces competition in categories of Formal Wear, Swimwear, Talent,
and an on-spot Interview. This year, the contestants were as follows:
Mr. TKE: Rodney Jerrell West
Mr. Kappa Sig: Ari Faust
Mr. Fiji: Ben Schumacher
Mr. KDR: Joe Tull
Mr. SPE: Mack Jones
Mr. Lambda: Adam Simon
Mr. Phi Psi: Zach Winters
Mr. Sig Chi: Zach Boyd
Mr. Chi Phi: Ben Gordon
Mr. DU: Nicholas Parker
A team composed of a representative from each of the campus sororities judged the event.
The high-spirited audience was buzzing with encouragement, which contributed greatly to
the competitors' energetic performances.
And the results are in… In first place, with 219 points came FIJI's Ben Schumacher.
Schumacher is a sophomore Managing for Sustainability major and a proud member of the
Bucknell Football Team. Following in second place with a close 214 points was Kappa Sig's
Ari Faust. And in third place with 205 points was Sig Chi's Zach Boyd.
As the first Greek organization to ever hold an event in the Weis Center, AXO's relocation
from the limited Trout Auditorium made Alpha Male, and Bucknell, history. With 592
tickets sold, AXO raised a history-high $4,144! In junction with additional donations, Alpha
Chi Omega granted $4,300 to a local women's shelter, Women In Transition, which
provides aid to victims of domestic violence. The women of Alpha Chi Omega thank all who
supported this event and the sorority's promotion of Domestic Violence Awareness. All Hail
the Alpha Male!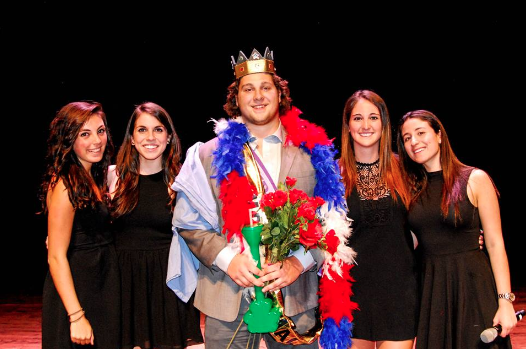 Above photo from left to right: Ally Mascali (Community Service Chair), Cristina Bartalacci (Assistant VP Philanthropy), Ben Schumacher (2015 Alpha Male), Kristen Verille (Chapter President), and Emma Shimmony (VP Philanthropy)
Photo Credit: Abbie Chepolis
(Visited 717 times, 1 visits today)