From the Herd: What Can You Do in 1:45?
Long before Lululemon and Vineyard Vines took over the campus, two-sport standout Tom McLean '78 strutted the streets of Lewisburg in bleached overalls and Hendrix-fringe jackets and shirts. McLean's wardrobe may have perfectly encapsulated his attitude as an athlete at the University — confident to a sometimes admittedly overwhelming degree. In fact, one of his greatest regrets as an athlete stemmed from his confident, if not cocky athletic attitude.
"I remember telling our relay team [at the Penn Relays] that I was going to run 1:44 on my leg. So if they ran how they ran in the earlier IC4A race that season, I would show the world something they hadn't seen — Bucknell winning the Championship of America Sprint Medley. I even told my 800 meter competitors from the other schools that I was going to do that. We didn't get the baton around and, to this day, I regret saying that," McLean said.
Don't be confused, McLean had the talent to back up his talk more often than not. To this day, he remains the only University athlete to win an individual NCAA title, as he captured the 800 meter crown in 1976 at the University of Pennsylvania's historic Franklin Field. Actually, McLean was only very recently presented with his National Championship ring, as he was opposed to jewelry at the time of his great triumph. Now working in sports publishing in Indianapolis, he also still holds the University record across 800 meters, once having completed the race in 1:45.34. That mark is also an IC4A (essentially an East Coast Championship meet) record to this day. Later in his career, Mclean found himself on a more global stage several times as a middle-distance runner, competing in both the finals of the United States Olympic Trials and the Pan–American Games (both for the 800 meter race). As if qualifying for countless regional, national, and international championships was not enough, there was even an instance where McLean funded his own trip to the NCAA Track and Field Championships in Utah with money he earned working at Nike during his summers back home in New Jersey. While there are many opinions of this verbose runner circulating around the world, no description of Thomas McLean is complete until it includes the words determined and persistent.
Not only a star on the track, McLean was a standout on the hardwood, as he was a member of the University's varsity basketball team for his first three years in Lewisburg. For the 1974-75 season, he was elected a co-captain for the Bison. Deservedly, Tom was inducted into the University's Athletics Hall of Fame years after his graduation in 1978. He was one of the first two African-American athletes ever distinguished with that honor, competing for the Blue and Orange less than twenty years after men's varsity athletics teams were racially integrated.
Once ranked fifth in the world in the 800 meters, McLean spent his high school days in New Jersey at Blair Academy. Not only was he a two-mile state champion and cross country state co-champion while enrolled at boarding school, McLean was the first basketball player to score 1,000 career points in Academy history. With his endurance running background and explosive basketball prowess, middle distance seemed ideal for the prodigy.  However, it did make training confusing for his coach, Art Gulden, at the University.
"Coach trained me like a distance runner the first year. By year two he went to a different tactic and trained me like a middle distance runner who can sprint. One summer I stayed near campus and I did my workouts with Coach [Gulden] for about two weeks. The toughest one I remember was 8 x 55 second 440 [yard runs] in flats on a cinder track with little rest and then  4 x 220 [yard runs] chasing another athlete with a 30 yard head start," McLean said.
Although he is heralded with a laundry list of personal accomplishments, McLean's pride rests in the achievement of his teams and his ability to be an advocate for change and leadership to his peers. McLean made it very clear that one of his proudest moments at the University was when he anchored his 1976 4×800 meter relay team to a third place finish at the NCAA Championships earning them All-American status. To this day, he fights to have those three men who embraced him after the race inducted into the University's Athletics Hall of Fame.
"I feel the Hall of Fame needs to change its regulations and include relays. Ted Williamson, Doug Butler and the late Gary Bonasorte scored in the NCAA not once but twice. They should be included in the Hall. No other athletes in BU Sports History have scored as many team points in the NCAA as they have. Induct them now!" McLean said.
Now a father himself, he was also adamant about mentioning some of his most crucial male role models as an athlete, namely his coaches.
"My coaches at Bucknell University and Blair Academy were very instrumental in shaping me. They molded me as a person, a man and as a young athlete. However, I would have to say that Coach Valvano, Coach Tommy Thompson, and Coach Art Gulden had the most impact," he said.
It was his teammates and coaches that kept McLean grounded and involved in track and field, as he wanted to quit the sport on several occasions.
"I may have quit the team 10 times in my first two years—I may have threatened to quit in '76, but Coach Gulden knew I wanted to do something big, so he kept pouring it on" he said.
Not only was McLean a formidable athlete, but he was also a role model for other minority students. He understood that he was a part of something much larger during his years in central Pennsylvania.
"We were at that time in the 70s, most likely, the largest class or the largest succession of classes in Bucknell history with the highest number of African American, Asian-American, Latino-American and international students. We had a network and a supportive one. We had periodic meetings to encourage and support each other. We had attendance at games and events to support each other. We once had a meeting where we asked the global questions, 'Which one of us can become captain of their team? Which person can become head of the student body? Which one of us can give a commencement speech? Which one can lead?'"
Throughout his time as a competitor and a college student, he encountered a multitude of blatant racist comments and even had his desires called into question a time or two. As you might guess, the ever confident Tom McLean chose the path of doing what he fundamentally had the right to do in any given situation.
"My freshman year I was once told not to date a certain young lady who I really liked … I ignored it."
When asked if he had anything else he wanted to say, the former Executive Director of Programs for USA Track and Field who could once outrun nearly anyone he stepped onto a track with left me with this: "I stand on the shoulders of all those people who helped me and who were attending BU with me."
As you can see, for as fast as he was, McLean never dashed away from his roots.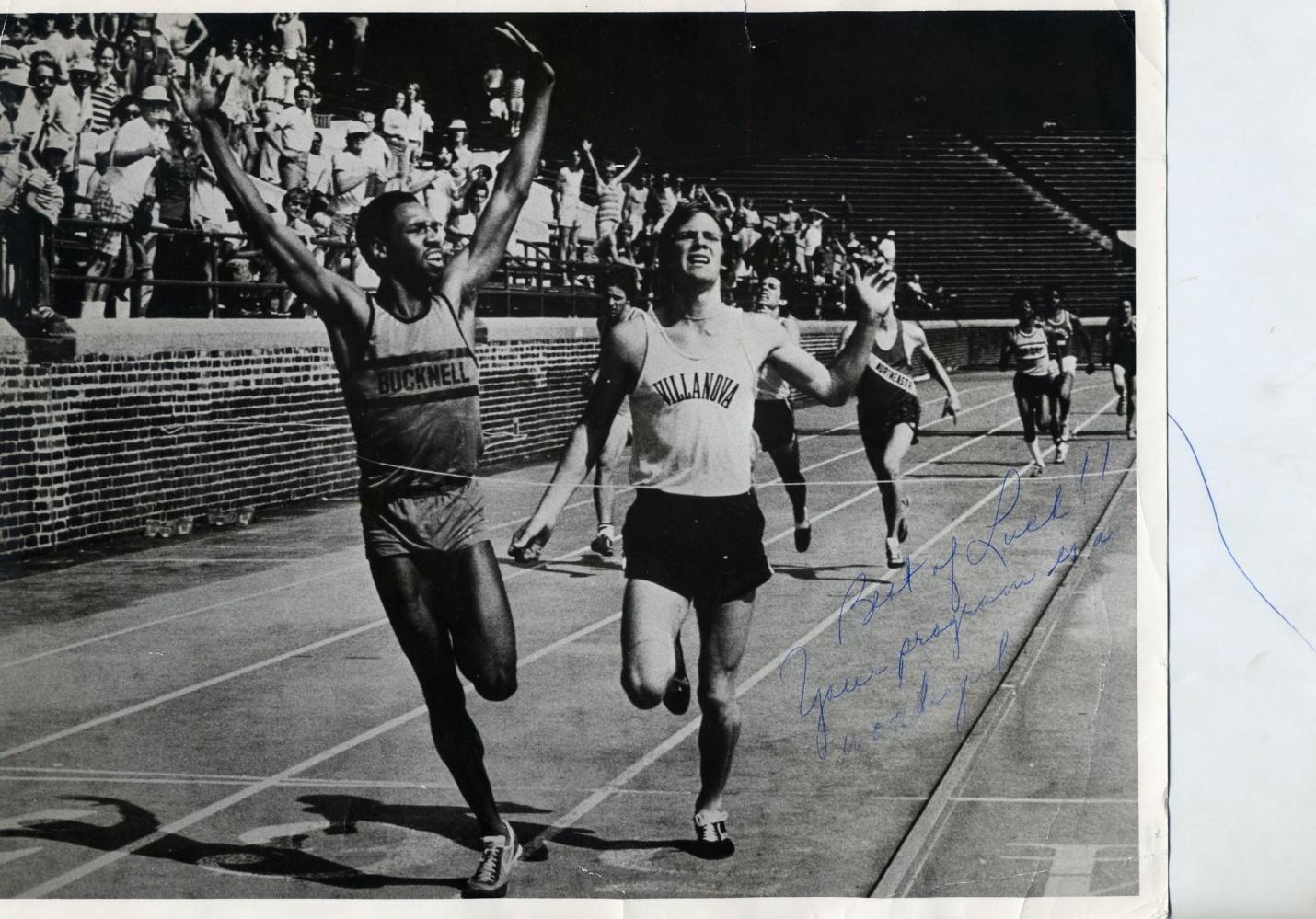 (Visited 1,331 times, 1 visits today)