Student Mailroom adopts electronic package system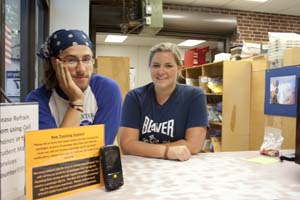 By Meghan Finlayson
Writer
The University is transitioning to a new system for receiving packages for the 2010-2011 school year. Instead of receiving a paper slip in their mailboxes, students now receive a notification by e-mail.
"A couple of years ago BSG asked the director of this department, Lisa Hoover, if we would look into [changing the system] because they felt that the students would benefit from getting an e-mail," student mail services coordinator Mary Scoma said."This way we have instant access."
After receiving an email, students can bring their BUID to the package desk. The new scanning system will scan their ID; then they can sign for their package.
Benefits from the new package system include increased efficiency. Instead of having to check their mailboxes for packages, students are alerted immediately.
"A lot of people have their Blackberries or iPhones with instant e-mail access, so they don't have to go back to their room all the time to get an e-mail. They can be notified that they have a package and stop by to get it," mail service assistant Mindy Yost said.
Students seem to be pleased with the new system.
"Last year I would sometimes forget to check my mailbox, and would have packages sitting in there for weeks, but now it is so easy because I get the e-mail, and can drop by the mailroom with my ID to pick it up" Kate Monahan '13 said.
Another goal of the new package system is to try and reduce the University's ecological footprint.
"We used to write all the packages on yellow cards and put them in the mailboxes … but now 95 percent of the signature packages are going through the new package system … anything that we signed for, we put into the tracking system and the students receive an e-mail," Scoma said.
Yost agrees. "We are trying to go greener in our department, and it does save on paper," she said.
"I think eliminating the note cards from the mailboxes is a step in the right direction for making Bucknell a greener campus" Katherine Griffith '13 said.
The new system aims to improve the effectiveness of the mailroom.
"If there's ever a question about a package, all [students] have to do is bring their tracking number for the package and we can go online and see where it is," Yost said.
While eventually all packages will be processed in the new system, the conversion to an entirely "green" package system is not yet complete.  "We can't process every package through the system right now. Students still need to check their mailboxes," Scoma said.
(Visited 214 times, 1 visits today)