By John Stevenson
Publication Designer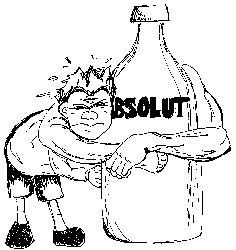 Within the next year, there is a high chance that a University student will lose his or her life to alcohol.
During the Greek Officer Orientation in January, President John Bravman and several other University administrators and alumni discussed ominous statistics from the fall semester: a 300-percent increase in the number of reported sexual assaults and 42 students hospitalized for alcohol-related issues. Of those students hospitalized, two experienced cardiac arrest. Yes, they were saved, but for some period of time, our classmates, our peers, were dead.
Story continues below advertisement
These issues—while a blight on campuses everywhere—have reached crisis proportions here.
Attempts to remedy the escalation of assaults come to campus in the form of marches, speakers and book groups—University students surely know there is a problem. The issues, however, will not be solved in these ways. Colossal problems must be solved in forceful ways. The University must put forth a comprehensive, unified and aggressive effort to mitigate sexual assaults and the related scourge, binge drinking.
To state the obvious: There is never any excuse for sexual assault. No one asks for it; no one deserves it. The damage is irreparable, and it is a pain which survivors carry for the entirety of their lives. If the survivor is comfortable with telling his or her friends and loved ones, the pain—while potentially easier to manage when shared—spreads. University students feel this weight in our own hearts because of our strong sense of community.
The sexual assault epidemic on campus is not rooted in a flawed mentality in men; it is prevalent because of a flawed mentality propagated in all students, faculty and staff—namely that somehow status quo responses will yield something other than the status quo. Buying thousands of blue-colored "For-a-Better-Bucknell" wristbands is wishfully and woefully inadequate; it is credulity to think otherwise.
We are all to blame.
The University has acted too passively. It has brought speakers, supported marches and gatherings, but these things will not solve the issue. Dr. Jackson Katz's talk last week did little. Bringing a speaker is simply inadequate for the University to claim it is doing all it can to "fix" the problem.
Katz will not have that effect. The social issues he discussed may exist, but if these flaws are the only impetus to the violence, the sexual assault rate off campus would be the same as on campus. Cities would be trying to organize book groups to protect their citizenry. This is not happening. Clearly, there is a variable which makes this surge a "within-the-Bubble" issue. The difference is the misuse of alcohol.
Alcohol has a profound impact on the number of sexual assaults. Researchers report that roughly half of all sexual assaults involve perpetrators who have been drinking; in some studies that percentage soars to nearly 80 percent (Collins and Messerschmidt 1993, Abbey et al. 1994, Crowell and Burgess 1996). While by no means suggesting the survivor is responsible for the crime, studies indicate that roughly the same percentage of those individuals had also been consuming alcohol. In addition to contributing to the skyrocketing number of sexual assaults, alcohol's widespread and flagrant abuse on campus is significantly increasing the likelihood of a student's death. The pain caused by this would be immeasurable. If one member was lost, the entire school would ache.
It is simply inexcusable to allow alcohol abuse to continue on our campus. Students must be more proactive in helping their friends—not just in dealing with the aftermath of binge drinking, but also in stopping it in the first place. Such aid, however, will not be enough; it must be supplemented with support from the staff, faculty and administration.
True change must occur, and for it to succeed, listen to Dr. Katz's words from over a week ago: This solution comes from "taking a stand and taking some risks." These words were not spoken about students; they were spoken about our administration.
Staff and faculty of the University: Act. By all means, participate in the marches, the book talks. Tell your students of the risks. Even with these efforts, more must be done.
The University and Public Safety must no longer turn a blind eye to the binge drinking on campus, nor can they—or the local authorities—ignore the excessive drinking that happens in downtown houses leased to University students.
On campus, it is common to see Public Safety sitting in cars on Fraternity Road as hordes of students stumble in and out of fraternity houses hosting unregistered events. Officers, entire sororities do not live in one fraternity house, especially if they are seen serially staggering in on a Wednesday.
Again, this is not about a beer or two with your buddies, or moderate social drinking, or drinking responsibly. This is the kind of drinking that puts people in the hospital, or stops their hearts, or risks irreparable harm to the drinkers and the people around them.
If a fraternity flagrantly and frequently defies the rules or is routinely found in possession of too much alcohol for its events, punish it. Thoroughly search the venue if it wishes to hold an event, and discipline the fraternity if the search finds contraband. Let the punishment—especially for repeated violations—be meaningful.
Greek life is an integral part of the University experience. Dealing seriously with these issues is not hostile to Greek life or its principles—quite the opposite; our founders would wholeheartedly support action to uphold that which is right.
University students are favored to attend an institution that sincerely cares about its students. We are fortunate to have a well-trained and just Department of Public Safety. Most importantly, we are blessed to have one another, each of us part of a community that would do anything to keep a member from harm.
Now is the time for that. Now is the time for this campus to burst the binge-drinking bubble. Time to address this problem and the problems that stem from it, forcefully, fully, and like our lives depended on it.
Because they do.
(Visited 110 times, 1 visits today)