Malesardi legacy affirmed with formal dedication of Malesardi Quadrangle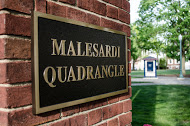 166th Commencement marks first ceremony to be held on the renamed Malesardi Quadrangle
The Academic Quad was formally renamed as the Malesardi Quadrangle on April 30 in honor of Bob Malesardi '45, months after the announcement that Malesardi had pledged an unprecedented $20 million gift to the University. This pledge will be distributed through the University's financial aid endowment as part of the Malesardi's estate. 
The Class of 2016 will be the first class to hold its Commencement on the renamed green space. Malesardi's contribution will be acknowledged during the 166th Commencement ceremony and is featured prominently as the renamed location on Commencement programming. 
Malesardi, his wife, Doris, and his daughters, Carol Malesardi Litwak '75, Janet Malesardi Schaeder '79, Ann Malesardi '87, and Jill Malesardi all took part in the dedication ceremony in April. Members of the Board of Trustees, students, friends, and University faculty and staff were also in attendance. 
"Future generations of students will stand on the Malesardi Quadrangle and know the impact this gift has made," president John Bravman said. "It takes the generosity of thousands, and some very special few, to make a permanent, lasting impact." 
Four engraved plaques bordering the quadrangle, mounted at each end of Coleman Hall and the Vaughan Literature Building, were unveiled with Malesardi's name. 
Bravman also presented the Malesardi family with a framed Class of 2016 Commencement program. 
The last time that Bob and Doris visited the University was October of 2015. During their visit, Bravman pitched to them the idea that their $20 million pledge, dedicated wholly to supporting financial aid, be commemorated by renaming the Academic Quadrangle in their honor.
"We walked around, and Bob lived in Roberts Quad–then called Old Main–as a first-year student," Bravman said. "Then we walked up there, and of course Carnegie still had a fence around it. But, I could just tell, looking at him, looking around, I just tried to imagine what was going through his mind. He instantly knew where he was. He was very thoughtful and immersed in emotion. You could see someone who has lived a long and happy life."
Bravman had discussed several ways through which the Malesardis could best leave their legacy on the University, and this was the one that most strongly resonated with them.
"For something of this magnitude, we really, rightfully, wanted to signify [the pledge] powerfully to the world, for anyone who visits, ultimately even more than something like a building [would]. When these buildings come down, other buildings will be built in their spot," Bravman said.
Bob enrolled in the University at the age of 16. Before graduating, he left the school to fight with the United States in World War II, eventually earning his degree in accounting after returning from the war and deciding to finish his studies in Lewisburg. A former trustee with three daughters who also attended the University, Malesardi has previously contributed gifts that have supported scholarships and the Ellen Clarke Bertrand Library. His most recent endowment is a singular event in University history–the largest gift the school has ever received.
"For me, the most important part [of the pledge] is that it went towards financial aid. That's one of the greatest ways that we can expand the pool from which the University draws students from. I'm here because of a scholarship, and that's the only reason why I'm here," Bucknell Student Government president Mark Merino '17 said.
Bravman said that he couldn't have imagined the pledge being donated toward a better cause.
"A large gift would typically go for an endowment in some area, like a building, or to name professorships. Those are often where big gifts go. And to get an endowment increment like this, for financial aid, is a tremendous thing. And it is forever," Bravman said.
Vice President of Enrollment Management Bill Conley expressed his hope that the generosity of the gift–which pushed the total capital raised in the current "We Do" campaign close to $400 million, just $100 million shy of the targeted amount–will encourage others, particularly alumni, to also contribute to the University.
"Maybe not as much as $20 million, but every bit helps," Conley said.
Details of a matching-gift program are being worked out, in which "endowed scholarships established over the next few years would ultimately be matched with Malesardi funds flowing into their own scholarship funds," Vice President of Development & Alumni Relations Scott Rosevear said.
Such a program ultimately encourages other alumni to engage in philanthropic acts that benefit the University.
The pledge represents "a powerful sentiment that there is support for our University," Bravman said. "[It] should enable all of us, and that should also signal that there are people out there who love this University very, very deeply."
The student body should be excited about the endowment because "[i]t can open the doors for what alumni are expected to do, and how they feel they should contribute to the University. This is an amazing pledge, and [the Malesardis are] an amazing family," Merino said.
"An endowment is a forever gift. It truly is forever. We are not celebrating 'here's a $20 million check, go build a building.' It's a forever gift, and that is really powerful," Bravman said. "It reminds us that things change. That things have to change. [With the endowment] we are not building buildings or changing things physically, but [Malesardi] is insuring our continuity in the most meaningful way possible."
"Bucknell has been such a big part of my life, and three of my daughters also went here. That makes this day really special," Malesardi said at the dedication.   
(Visited 1,135 times, 1 visits today)