Athlete of the Week: Emily Finn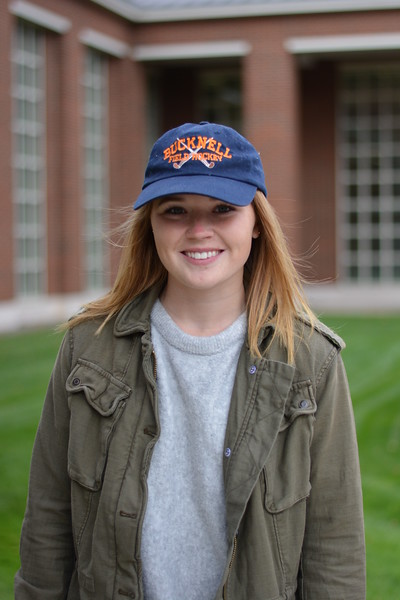 In her third season for the Orange and Blue Emily Finn '18 makes a huge impact in net for the field hockey team. In the team's match against Lock Haven on Oct. 23, Finn recorded her second consecutive shutout to help the Bison to a 1-0 double overtime win for their senior day celebration.
This shutout marks Finn's fifth of the season, a testament to the vital role Finn plays for the Orange and Blue.
"If feels great to get the wins by a shutout, but I can't take all the credit. It was an entire team effort, and I couldn't ask for a better team in front of me," Finn said.
"My defenders are strong, and they are all great at keeping the opposition from entering the circle and getting off good shots. The midfielders are also incredible at recovering on defense, transitioning the ball from the backs to the forwards, and then pushing up offensively. The forwards also have been doing a great job at earning corners and keeping offensive pressure on the other team for long stretches of time," Finn said.
Finn's contributions have become more and more significant over the course of her three years on the team. In 2015, Finn earned a spot on the Patriot League Academic Honor Roll, and finished with a .711 save percent record.
Despite her success on the field, Finn cites her favorite part of her career for the Orange and Blue in the relationships she has formed with her teammates. She discusses the importance of her support system in her success.
"I have gotten so close to both past and present players and they have always been there for me no matter what. I'm going to have a hard time saying goodbye to our current seniors at the end of this year for sure. The players, coaches, alumni, and our parents are all incredibly supportive of all of us, and were always there for encouragement after some of the tough losses we had earlier this season—shout out to my parents for never missing a game," Finn said.
Finn points out the weight each remaining game holds.
"At this point in the schedule we are in a win or go home situation. We need to win our last season and league game, Colgate, to make the Patriot League playoffs. The goal is to just take it one game at a time and play our very best. When we play like ourselves we can compete with anyone," Finn said.
(Visited 436 times, 1 visits today)