Athlete of the Week: Will Sands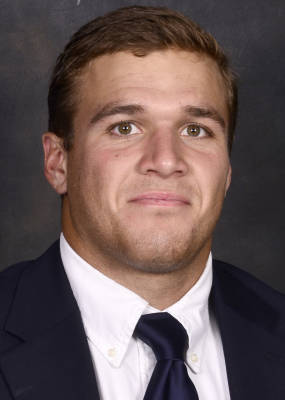 Will Sands '18 was born into a lacrosse family. His father, uncles, and multiple cousins were college lacrosse players, and Sands aspired to follow in their footsteps from a young age. A graduate of Friends Academy, Sands made his high school's varsity lacrosse team in eighth grade. He was a two-time varsity team captain and two-time High School All-American.
In his 2015 rookie season with the Bison, Sands started all 15 games and was named Patriot League Rookie of the Week three times. He was second on the team in goals and ranked 13th nationally with a shooting percentage of .448. As a sophomore, Sands led the team with 36 goals and was named to the Second Team All-Patriot League roster. He also finished the season with 64 points, placing him seventh on the program's top single-season point scorers list.
Now in his junior campaign, Sands is a team captain for the Bison. Individually, he is one of 50 players to be named to the Tewaaraton Award Watch List, putting him in contention for national player of the year.
Though Sands has garnered many individual accolades, he remains a true team player and is more dedicated to the team's accomplishments than his own.
"I have been very fortunate to have gotten some great national recognition for my play but I am all about my team's success. We have beaten top ranked teams in the nation and we consider ourselves a top team," Sands said.
Consistent with his team-oriented focus, Sands said that his favorite aspect of being a Bison athlete is the camaraderie he shares with his teammates.
"I love being a part of a giant family where all 42 guys have each other's back. All of these guys are my best friends, and you grow that relationship by going through the ups and downs of being on a team," Sands said.
Despite the success he has experienced wearing the Orange and Blue, Sands remains hungry for more. In his final two collegiate seasons, he has his sights set on winning a league championship.
"Being the competitor that I am, I have individual goals that I want to accomplish but nothing weighs more than the team goals. We believe we are good enough to win championships and we know we need to play better in order to do so," Sands said. "The main key to my success is never being satisfied about my play or my team's play. I am always trying to get better each and every day," Sands said.
(Visited 248 times, 1 visits today)