Athlete of the Week: Abdullah Anderson '18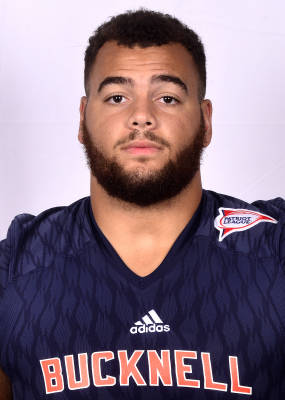 As he laces up his cleats for his senior season, Abdullah Anderson '18  caught the eye of college football crowds across the nation. Anderson has been named to the 2018 watch list for the Reese's Senior Bowl, an all-star game between the north and the south which consists of 110 players from all collegiate levels across the country.
"It feels great [to be added to the watch list]. I'm glad that all of the hard work that my team and I have put in this year and previous years has helped me develop as a player and be recognized by others," Anderson said.
From Galloway, N.J., Anderson arrived on campus in the fall of 2014, and has been making waves for the Orange and Blue ever since. Being selected to the Second Team All-Patriot League as a first-year was the start of both the pre-season and post-season honors to come.
"My favorite parts of my career might have to be learning from previous senior players and being able to take what they taught me and relay the inspiration and motivation to the teams over the year, especially this year since I am a captain," Anderson said.
Heading into the 2017 season, Anderson has started in all 33 games he has played in and will be serving as the co-captain for the Bison. He has been a three-time All-Patriot League selection and a two-time First Team All-Patriot League selection. All of these awards and honors are a reflection of his hard work.
"The greatest challenge has been the work I had to do in order to develop my body and my game to evolve as a player and as a leader of this team," Anderson said.
His contributions go hardly unnoticed, as he has recorded 129 tackles, 13 sacks, and 3 blocked kicks for the Orange and Blue.
Anderson has also been named to the Preseason All-Patriot League Team and the STATS Preseason Third All-American Team. With all of the honors and experience he has gained over the course of the past few years, Anderson's senior campaign is sure to impress.
"I'm looking forward to leading this team to be the best they can be. I'm also looking forward to seeing the development of the upcoming freshmen and seeing how they progress over the season. Lastly, I'm excited to play with this senior class for the last time and to play in front of our fans and show them the amount of work we put in this past off-season,"Anderson said.
Anderson and the rest of the Bison will open their season on Sept. 2 at the Christy Mathewson-Memorial Stadium, where they will face Marist College at 6 p.m.
(Visited 93 times, 1 visits today)