'WE DO' did it!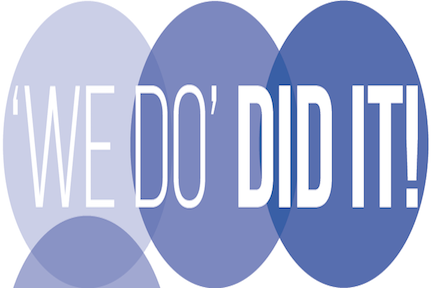 The University's 'WE DO' campaign met a historic and unprecedented goal at the beginning of July. With the help of students, faculty, alumni, and parents, the campaign not only reached but surpassed the University's ambitious goal of securing $500 million in gifts and pledges.
Launched in 2012, the 'WE DO' campaign garnered half a billion dollars in donations and pledges in under five years. Tens of thousands of people gave back to the University– a true testament to the lasting effect our University has on its alumni, family, and friends. Furthermore, this milestone event proves that once a Bucknellian, always a Bucknellian.
HOW?
Raising  $500 million is no easy feat, especially in such short a time period. So how was 'WE DO' able to reach this impressive goal? Kathy Graham, Associate Vice President for Development and Alumni Relations, attributed the success of the campaign to the generous 44,995 donors, and the committed network of volunteers, faculty, students, and administrators.
"They were able to connect potential donors to the amazing people and programs at Bucknell and this inspired gifts" Graham said.
For example, the Student Calling Program (SCP) is an important way for donors to learn about what they can do to enhance the University.
"Through truly fantastic conversations with current students, it allows alumni to hear exactly what and how their donations—big and small—make our Bucknell experience today so unique and special" student caller John Quinn '18 said.
A crucial part of the 'WE DO' campaign was maintaining alumni involvement at the University. According to Graham, this was insured in multiple ways. The University offered opportunities for alumni to volunteer, participate in University professional networks, serve as a mentor in the Career Development Center, and learn through students, staff, and administrators how their gifts will make an impact.
SHOW ME THE MONEY!
The money raised during this campaign has been, and will be used in multiple ways. The campaign has been active since 2012, so some of the money raised was used for projects and student programs within the past five years.
"Thousands of donors, including students, made annual fund gifts of all sizes that supported the work of Bucknell in the year the gift was made" Graham said. The new Bucknell Student Health Center, Academic West, the Mooney Innovation Lab, and the West Fields complex are just a few of the projects completed with donations given from the 'WE DO' campaign.
Graham also detailed an important program supported by the campaign where professors receive fellowship funding, which allows them to engage their students in more exciting research. The scholarships that were created during the campaign are currently being awarded, and "many more will become active over the next five years, including a gift that will help make study abroad experiences more affordable for our students," Graham said.
WHAT'S NEXT?
In order to show their appreciation for the gifts received in this campaign, 'WE DO' is hosting events during Homecoming and Family Weekend. On Saturday, Sept. 24 there will be a thank-you reception with live music, refreshments, and fireworks. After the Homecoming football game, 'WE DO' will host another reception featuring a (to-be announced) nationally recognized comedian and actor.
'WE DO's' monumental achievement is only fuel for future campaigns and additional goals. Graham believes that the large donations received during this campaign will inspire more gifts of those sizes.
"In addition to raising important funds for Bucknell University, the campaign engaged our constituents in new ways" Graham said.
"As a student caller, I understand that the only way future Bucknellians will have the opportunities I have and more, is if we, as current students, give back when it's our turn," Quinn said.
(Visited 455 times, 1 visits today)