Athlete of the Week: Sophie Bullard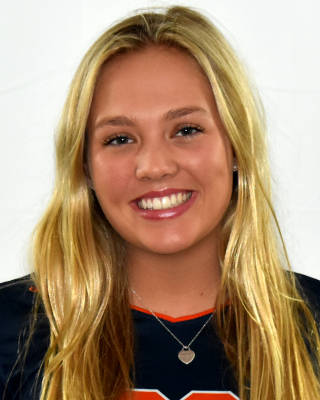 Sophie Bullard '20 is only in her second season for the Orange and Blue, but is already turning heads with her standout performances on the volleyball court. After opening the season with the Bison Invitational, Bullard was named the MVP of the tournament, Bison Athlete of the Week, Patriot League Player of the Week, and was named to the All-Tournament Team.
Hailing from Key Biscayne, Fla., Bullard has always known success on the court. Bullard served as captain of her high school team and was a five-year letterwinner; she now plays as an outside hitter for the Bison. As a first-year, Bullard played in 91 sets over the course of 27 matches, including 25 starts. Her accomplishments, including being a member of the squad that beat Patriot League rival Lehigh for the first time since 2012, earned her a spot on the Penn Invitational All-Tournament Team. The start to her sophomore campaign has been nothing short of remarkable, and Bullard's tournament performance has set the pace for the Bison as they move into the heart of their season. Bullard noted that her performance wouldn't have been possible without her teammates.
"[It was] such an amazing feeling starting the season strong and coming out 3-0 and no one can do it on their own; it takes the whole team. We now know how good we are and we just need to keep competing each match," Bullard said.
Though she has only represented the Bison for one full season, Bullard remembers beating Lehigh last year as one of her favorite memories on the court.
"There are so many fun memories with the team but [my favorite moment] would either be beating Lehigh last year or starting my sophomore year strong," Bullard said.
Bullard thought critically about what the rest of the season will demand from both herself and the Bison.
"I think the toughest part of my Bucknell career has been closing fifth sets as a team. We let a lot of close games go by not pushing until the game was over last year, and that is something we are focusing on this year. For the next three years, I am looking to change our program and become the top of the Patriot league as a team. Personally, as we all have goals, I hope to be the top scorer every year as hard as it will be!" Bullard said.
Bullard will be back in action Sept. 8-9 when the Bison take the court in Buffalo, N.Y. and face Canisius, Eastern Washington, and Charlotte.
(Visited 504 times, 1 visits today)