Athlete of the Week: Max Kane '18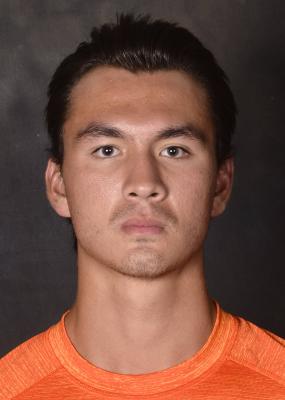 For Max Kane '18, the successful showing by the men's tennis team at the Bucknell Fall Invite on Sept. 10 was only the most recent victory on his record. Ranked 15th in program history for singles wins, Kane added to this record in taking first in his top flight of the tournament. He established how far he has come as an athlete in emerging victorious to a St. Francis player who had previously defeated him during his sophomore year in straight sets.
"It's a good feeling to start the year off strong, but I know there's still a long way to go until the spring. The biggest goal that I have for myself and my team is to win a Patriot League title and I'm looking forward to helping that become a reality this year," said Kane.
Despite his wins in the singles flight, Kane humbly showed his ability to be a team player.
"The best moment of the most recent tournament was teaming up with our first-year Max Garramone in doubles. After a rocky first match we really got used to each others' games and we didn't lose another match. It was very fun competing with Max and I look forward to playing with him again in the tournaments to come," said Kane, who is ranked 21st in program history for doubles wins.
Kane is no stranger to the top-level competition he is facing this year. During his junior campaign, Kane made an appearance at every top five spot in the lineup. Among other strong showings, he finished first in his flight at Navy's Joe Hunt Invitational. He has earned a spot on the Patriot League Academic Honor Roll every year of his career, and was named an ITA Scholar-Athlete after both his sophomore and junior seasons.
"On the tennis court, my favorite memories are upsetting Colgate my first year, Boston University my sophomore year, and Lehigh my junior year — all in the end-of-season Patriot League tournament where we were the underdog team every single time. Off the court, getting to know my teammates like family has been the best part of my experience at Bucknell," said Kane.
Kane has one last season left on the courts for the Orange and Blue. He has high hopes for the team.
"I am looking forward to leaving Bucknell with a Patriot League title. I am also excited for the classes under me to become team leaders once my class graduates," said Kane.
Kane and the men's tennis team will be back in action from Sept. 15-17 at the Purdue Fall Invitational.
(Visited 626 times, 1 visits today)