Athlete of the Week: Emily Finn '18, field hockey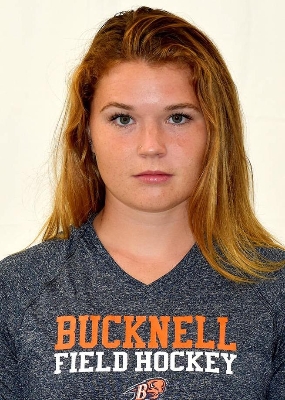 In her final season for the Orange and Blue, Emily Finn '18 is making her mark in the net on the field hockey pitch. Despite the team's recent loss to top-10 nationally-ranked opponent Maryland, Finn made a career-high 21 saves in a valiant effort for the Bison.
"It always feels good to perform well in a game, and know that you did as much as you could to help your team. There was so much adrenaline, and playing a top team like Maryland can be frustrating. I thought we all really showed that we can keep up and compete with the top teams. We didn't get the winning outcome, but it was still a great game," Finn said.
Finn has plenty of experience in back for the Orange and Blue, as this is her fourth season seeing playing time in net. Her previous accolades include two years on the Patriot League All-Tournament team and a spot on the Patriot League Academic Honor roll. Currently, Finn ranks ninth in program history with six shutouts under her belt for the Bison.
Finn reflected on her time with the team and showed her affinity for being a team player. "As cheesy as it sounds, my favorite part of my career is all the friends I have made on the team. Of course there were highlight moments and victories I'll never forget, but my favorite thing about field hockey is my team."
It has not always been easy for Finn, however, as she acknowledged the challenges inherent to the goalkeeper position.
"The greatest challenge for me in my career at Bucknell was figuring out how to not let mistakes get to me," Finn said. "Being a goalkeeper is very mental, and it can be hard to brush off a mistake, because most of the time a mistake leads to a goal for the other team. We have a challenging schedule every year because we learn the most from it, but it can be incredibly frustrating. It can still be challenging for me, but I have definitely gotten better at shaking things off, and not letting mistakes get to me during the game."
As Finn's final season continues and she looks ahead, Finn said, "My college hockey career is almost over and I'm not ready for it to end. I'm looking forward for these next few weeks and giving every game my all. I never want to look back on a game and think 'I could've tried harder.'"
Finn and the Orange and Blue will be back in action when they face Drexel in Philadelphia Sept. 24
STATS:
9th in program history with six shutouts
2-time Patriot League All-Tournament Team
1 time Patriot League Academic Honor Roll
(Visited 184 times, 1 visits today)