The scoop on Jerry Greenfield, co-founder of Ben & Jerry's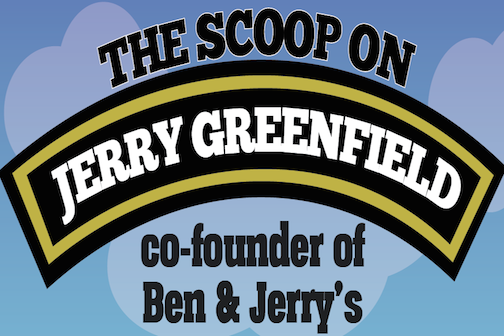 Everybody recognizes the pints of homemade ice cream with unique flavors and chunks and swirls of cookies and candies, but not everyone recognizes the faces of the two men behind the name, Ben Cohen and Jerry Greenfield. After opening up their first scoop shop in 1978, the pair have enjoyed enormous commercial and philanthropic success. Cohen's creative genius and Greenfield's rational mentality blend together to make a combination as perfect as mint and chocolate chips. About 400 University students were fortunate enough to hear the company's full story from company co-founder Greenfield on Sept. 18 in the Weis Center for the Performing Arts. The talk was hosted by the Student Lectureship Committee, a student-run organization whose task is to bring one influential speaker to campus each semester.
"I think that the people who came genuinely wanted to hear about his philosophy and experience, and appreciated a unique and underrepresented perspective of how sustainability and social responsibility relates to the business world," committee co-chair Melody Sonnemann '18 said.
Humble Beginnings
Thirteen-year olds Cohen and Greenfield became friends after bonding over their inability to complete a 7-minute mile run in gym class. This was likely due to the fact that they both liked to eat a lot, a penchant that ended up propelling them into the ice cream business years later. After Ben dropped out of three different colleges and Jerry got rejected from about 20 medical schools, twice, the two decided to do something entirely new, "pretty much just for fun," according to Greenfield.
"We didn't think of it as a business, we didn't think of it as a career…It was just something to do," Greenfield said.
After each completed a $2.50 correspondence course in ice-cream making at the Pennsylvania State University, Cohen and Greenfield took the cumulative $6,000 they had saved up and moved to Burlington, Vt., where the cold temperatures had reduced the competition in the ice cream parlor market to zero. They renovated an abandoned gas station themselves, purchased all used equipment, and churned out about 10 batches of ice cream on a "good day," according to Greenfield.
When the temperatures dipped below zero degrees, so did the shop's business. The solution came in the form of a pint-sized container. Cohen became the company's traveling salesman, delivering pints of ice cream out of a Styrofoam box in the back of his station wagon to mom-and-pop grocery stores, driving as fast as he could until the ice cream melted.
The Big Break
Cohen and Greenfield got their big break when they began selling their ice cream to large distributors in Massachusetts and Connecticut. One distributor sent the company an urgent message, saying that the Pillsbury-owned Häagen-Dazs company would no longer sell to them if they bought from Ben & Jerry's. Cohen was both shocked and somewhat delighted that such huge companies even saw Ben & Jerry's as a threat. They decided to start a "What's the Doughboy Afraid Of?" campaign that gained significant momentum and earned their company a spread in "Rolling Stone" magazine, "The Wall Street Journal," and "The New Yorker". Eventually, Pillsbury backed down, and Ben & Jerry's was able to distribute all over the country and become a thriving corporation. Greenfield shared that it was at this moment when they realized they were "businessmen and no longer just ice-cream guys," which was something that both men struggled with. They feared that they would not be able to balance corporate life and their ideals of peace and love. Fortunately, they were able to find a way to do just that.
Peace, Love, Ice Cream
Aside from its unique homemade ice cream, something that makes the company stand out from other businesses is its commitment to social responsibility. Throughout Greenfield's entire speech, he stressed the importance of "spirituality" in business. He said that this aspect of business can often be overlooked or resisted, but it is essential for companies to measure success not only in profits, but also in how much they can benefit the community. He shared that people, including his manager, don't often envision these two going hand in hand, but corporations need to start thinking creatively.
"In our experience at Ben & Jerry's, it's better to have a smaller number of people who are passionately supporting what you're doing than to have a large number of people who don't really care that much," Greenfield said.
Greenfield and Cohen had an epiphany that they needed to use their success for good, and began integrating spirituality into their business. They now buy the baked good ingredients found in their flavors from a bakery in Yonkers, N.Y. that employs the homeless and individuals who suffer from substance abuse. They also partner with ice cream shops that work with at-risk youth. Additionally, the company confronts controversy head-on, making statements and starting campaigns for various social justice issues, including fair trade, racial justice, LGBTQ inequality, climate change etc.
"Ben and Jerry's has always felt like it's important to stand for something, and you may not please everyone, but it's a company that's based on shared values and […] in a way the company is trying to work for a more fair and just world and it's using ice cream as a vehicle to do that," Greenfield said.
Flavorful Facts
Greenfield's Favorite Flavor: Americone Dream
Flavor that Greenfield is Most Proud of: Empower Mint, which aimed to support the Black Lives Matter movement
At any given time, Greenfield has about 15-20 pints of Ben & Jerry's in his freezer.
The business plan Cohen and Greenfield submitted to the bank when requesting a loan was the same business plan used for opening a pizza parlor, just with the "slice of pizza" phrases switched out for "ice cream cone."
The reasoning behind the large, textural chunks in the ice cream is due to Cohen's inability to taste.
(Visited 379 times, 1 visits today)