From court to coach: Jay Wright '83 returns to campus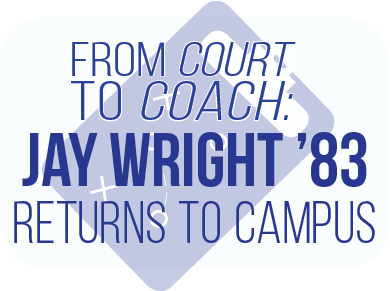 As Villanova basketball coaching legend Jay Wright '83 sat at the front of Trout Auditorium on Sept. 21, he reflected on his 2016 National Championship title.
"I told my team in the locker room—this is bigger than us. This win is all about the people who came before us—those are the people that got us here," Wright said.
For Wright, the University is a part of that journey, and his tenure on the Bison men's basketball team serves as an integral part of his current coaching strategy. His career on the court for the Orange and Blue was highlighted by both ups and downs—he recalled his first season sitting on the bench, a contributing factor to his current mantra, "humble and hungry." He also admired his teammates such as Pat Flannery '80, inspiring his motto, "We play for those who came before us."
Building a Program
During his segment of the Walling Speaker Series sponsored by the College of Management, Wright introduced a fresh perspective through his experience outside the traditional office setting; his discussion centered around his time on the court. A two-time Naismith College Coach of the Year winner and National Champion, Wright has established himself as a true leader in the world of college athletics. Known for his impeccable fashion style on the sidelines, Wright's unique approach to recruiting also reflects an interesting strategy that has proved to be one of Villanova's lethal weapons on the court. His constant focus on developing his players not only as athletes, but also as students, teammates, and all-around individuals has helped him build his empire; this empire consists of players who have aspirations to be a part of a whole, as opposed to the "one-and-done" players who look to play at the collegiate level for a year before moving on to the NBA level. The camaraderie fostered by this environment has been key to Villanova's success, as evidenced by the last-second pass from Ryan Arcidiacono to Kris Jenkins that ultimately won Villanova its 2016 National Championship.
"We don't become you; you become us," Wright said, as he articulated another important pillar of his program.
Defining Strategy
Wright's ability to eloquently convey his well-developed strategy continued as he explained to the audience his four core values: play hard, play together, play smart, and play with pride. As he presented each of these values, he articulated the importance of being able to extrapolate these values and apply them beyond an athletic setting.
"Live hard. Live together. Live smart. Live with pride," Wright said. He exemplified this as he expressed his own pride in being a University alumnus, and exhibited how this pride exists among our campus community today. For example, when Bison basketball standout Nana Foulland '18 stepped up to the microphone during Wright's presentation to ask a question during the Q&A section of the event, Wright tossed aside formality and said, "Hey. You are an incredible player, and you make this school proud."
Wright's Ways
His charisma was evident as Wright engaged the audience throughout the talk, taking the time to acknowledge each student who had a connection to his program and staying for a lengthy amount of time after his speech was over. Throughout his speech and in his words following the presentation, Wright displayed what makes him such a standout coach: his passion for what he does and his interest in those he is surrounded by have fueled his career. He laughed as he told stories, spoke directly to many community members with sincerity, and reflected on his time in Lewisburg as a student. It was apparent why his players are not simply engaged on a surface level; they care because their coach has invested so much of himself in them.
As he concluded his speech, it became clear there was one prevailing lesson Wright hoped each attending audience member would embrace—a realization of the importance of attitude. Time after time, Wright found himself returning to this subject as a key factor that has truly made a difference in every aspect of his life on the court, as a coach, and simply as a person.
"I want to attack every day with the best effort I have," Wright said. "There are so many things that are out of our hands, but our effort and our attitude—that, we can control."
As University students, we can learn from Wright's wisdom and sincerity and apply it to our own goals, our careers, and our daily lives. Inspired by his successful leadership, we can make our own personal journeys from "court" to "coach."
(Visited 730 times, 1 visits today)