Athlete of the Week: Dani Kaufman '20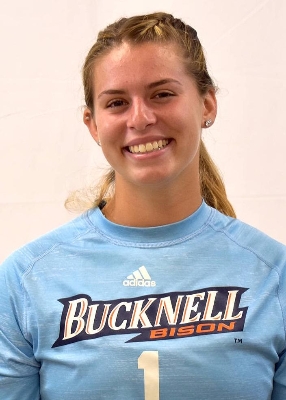 Soccer has always been an integral part of Dani Kaufman's '20 life.
"I started playing soccer with my local park district soccer team when I was around five years old," Kaufman said. Now a key member of the Bison women's soccer team, Kaufman serves as the primary goalkeeper for the Bison, starting all 11 games so far this season. After doing her time as backup keeper to Jessica Ratner '17 during the 2016 Patriot League Championship season, Kaufman has stepped seamlessly into the role of starting goalkeeper. She has notched five shutouts this season already, four individual and one combined.
Kaufman has been a force in goal for the Orange and Blue, ranking highly in multiple statistical categories around the Patriot League. Currently, Kaufman sits atop the league in saves per game, with 5.45 on average. She already has 60 saves on the season in Patriot League play, with a save percentage of .833. She ranks second in the total saves and shutouts per game categories, and is undoubtedly making a name for the Bison as she makes her way further up the ranks.
Kaufman also represented the Orange and Blue internationally, as a member of the women's national team at the Maccabiah Games in Israel this summer. Aside from her success on the field, Kaufman has connected with both her family and her teammates, through her role as a Bison student-athlete.
"I think my favorite part of this season so far was Parents Weekend when we played against American. Not only was it awesome to have my parents there, but I felt like my team is like a huge family. After the game we all just hung out with all of our parents and ate food," Kaufman said.
Despite her success on the pitch, Kaufman spoke more about the team camaraderie, as she reflected on her favorite aspect of her career.
"My favorite thing about playing at Bucknell is the student athlete community. We all support each other, and cheer each other on. It's an awesome community within Bucknell," she said.
With two years left for the Bison, she looks ahead, saying, "I think what I am looking forward to is that I still have so much to learn and grow as a player and person, and I'm lucky to have Bucknell soccer to do that!"
Kaufman and the Bison will be back in action when they face Holy Cross on the road Sept. 30.
(Visited 302 times, 1 visits today)