The gang's all here: Family Weekend edition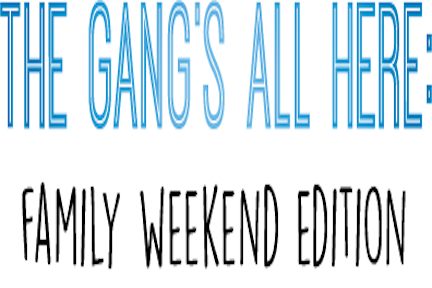 This year's Family Weekend saw student organizations successfully entertain both students and families alike. Between Sept. 22 and Sept. 24, events were held that showcased Bucknellian talent. Some of the student performances included Christy's A Cappella Concert, the 'Nell Party stand-up comedy show, the We Brake for Nobody improvisation (improv) show, and the jazz and symphonic band concert.
Christy's A Cappella
The Christy's A Cappella Concert, which took place on the nights of Sept. 22nd and Sept. 23rd, is a University Family Weekend tradition. Every year, campus a cappella groups show off their catchy renditions of both well-known and little known songs to students, faculty, friends, and family. Two Past Midnight, The Offbeats, the Silhouettes, and Beyond Unison took the stage this year, each delivering tremendous performances.
Two Past Midnight performed Ed Sheeran's "Galway Girl," Charlie Puth's "Dangerously," and Earth, Wind and Fire's "September." Two Past Midnight member, Laur Hudson '18, claimed her favorite song the group performed was "Galway Girl" because of the unique structure arranged for the ensemble, which brought a lot of energy to the performance.
The Silhouettes sang Shai's "If I Ever Fall in Love Again," "Dear Theodosia" from the musical "Hamilton," and a medley of Miley Cyrus tunes. Maggie Cushing '18 of The Silhouettes had the most fun performing the Miley Cyrus medley.
"We got to feature four different soloists, and we literally 'moved our hips like yeah,'" Cushing said. Cushing added that Christy's is her favorite event of the year, and voiced her admiration for the support each a cappella group at the University extends to one another.
"Throughout my four years singing a cappella, I have gotten to know members of the other groups, and this year there is more camaraderie than ever," Cushing said.
The Offbeats performed Avicii's "Addicted to You," a rock 'n' roll medley featuring songs from Journey, Toto, Billy Joel, and Styx, Rag'n'Bone Man's "Human," and the Chainsmokers' "Closer." Deanna Goudelias  '19, a member of The Offbeats, said that her favorite song the group performed was "Human" thanks to the arrangement of Karah Barrist '18. Goudelias added that their most challenging performance was the rock 'n' roll medley, which required the members to collectively perfect difficult transitions between songs.
"We appreciate that so many of our families come and see the product of all our hard work and dedication," Goudelias said.
Beyond Unison sang Coldplay's "Fix You," Matt Nathanson's "Faster," Chance the Rapper's "Same Drugs," and Young the Giant's "Cough Syrup." "'Fix You'" was my favorite [song to perform] because I have a deep personal connection with the song itself, and I arranged that song for the group because I wanted to share that connection with them," said member of Beyond Unison Justina Bernard '19. She added that her favorite part of Christy's "is hearing everyone in Rooke Chapel, seeing them in their group's colors, and knowing that we all made it through the crazy 'Christy's push' and now get to share our music with each other, our families, and the Bucknell community."
The 'Nell Party
On Sept. 22, at 7 p.m., Trout Auditorium welcomed a full crowd comprised of students, parents, family members, and faculty members eager to laugh at four student performers' jokes and gaffs. The night was hosted by MC Jon Buddenhagen '18, who staggered onto the stage with microphone stand in hand and a myriad of jokes tumbling out of his mouth.
The first performer of the night was Josh Willard '18, who joked about a wide array of topics ranging from girls' peculiar workout routines to the animalistic nature of University fraternity parties.
The second performer was Rose Gendelman '19, who is no stranger to performing on a stage.
"As someone who took acting classes and did theater from when I was really young… I always really thrived off of the adrenaline rush of performing… but when you're a stand alone act, the only person you have to rely on is yourself, which is why it is really rewarding, because when it's over you feel such a sense of accomplishment," Rose Gendelman '19 said.
Although Gendelman labels stand-up comedy as challenging due to the total independence a comedian is given onstage, her stand-up act left the audience chuckling in their seats.
Annina Ruggirello '18 was the night's third performer, and President of the 'Nell Party, Troy Schwab '19, closed the show.
"I actually started performing stand-up my first year at Bucknell. I kind of fell in love with it and now, two years later, I'm the president of the club. There's nothing like standing up in front of hundreds of people and being goofy and saying jokes," Troy Schwab '19 said.
Overall, the show was a roaring success, featuring a great turnout and showcasing a variety of talent.
"The comedy show this past week was our first ever [family] weekend show; performing in front of parents and that atypical demographic was certainly a hurdle for our performers. With that having been said, the show went splendidly. All our performers were fantastic and the audience overwhelmingly loved it!" Schwab said.
Jazz and symphonic band concert
On the afternoon of Sept. 24, the University's jazz and symphonic bands performed beautiful and harmonious renditions of tranquil and vibrant tunes in the Weis Center for Performing Arts. While the symphonic band covered compositions from the 19th and 20th centuries, the jazz band rocked out to songs from the 20th and 21st centuries.
"Being a part of the [symphonic band] performance was an experience like no other. I've been a part of band all my life, and nothing compares to playing with a group [of people] that are so talented and share such a love for music. We prepared quite a bit of difficult music in about a month, and I think it went better than we had expected it to with so little time [to practice]," Deanna Cannizzaro '21, a clarinetist in the symphonic band, said.
Following the close of the symphonic band's performance, which was conducted by Professor of Music William Kenny, the jazz band took the stage to dazzle the audience with their musical selections.
"I think it was a lot of fun performing for friends and family, especially this early in the year. We haven't had a ton of time to prepare, but I think the concert went really well and we gave people a good taste of what we'll be working on the rest of the semester," Nate Aspinall '19, a drummer for the jazz band, said.
Associate Professor of Music and Jazz Band Director Barry Long said that he was proud of his group's outstanding performance, especially in recognition of how early it came in the semester and thus how little time the band had to practice and perfect several pieces of music.
"I really liked the energy and enthusiasm of the players. It was a great way to spend a Sunday afternoon," Joe Monfort '19, an audience member at the show, said.
We Brake for Nobody
The University's only improvisational group, We Brake for Nobody, performed for family and friends twice on Sept. 23rd, in the ELC Forum. Student comedians of all years took the stage to act out spontaneous skits for an engaged audience.
"The Family Weekend show is always a great turnout, and we love getting the chance to perform for people of all ages! The best part of it, though, is that it is our new members' first show of the year. Our two new members were both hilarious, and made us so proud!" Julia Oshrin '19 said.
(Visited 198 times, 1 visits today)