Athlete of the Week: Charlie Niehaus '18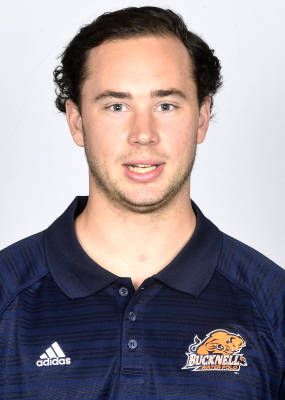 As he entered his last season for the Orange and Blue, Charlie Niehaus '18 was no stranger to the net; in fact, he began his season continuing a streak of 53 consecutive starts in goal for the Bison. A key player on the men's water polo squad, Niehaus's early season performances have been a standout for the Bison, and have served as a crucial factor in many of their wins thus far.
After the team's victory over George Washington earlier this year, a win which marked Niehaus's third-straight game recording double digit saves, the keeper reflected on his performances.
"Our defense played really well and made my job easy. It feels good when my team can rely on me and trust in my performance. After starting 1-6, bouncing back and winning six in a row made me proud," Niehaus said. The Bison have continued to be extremely successful at home in the Kinney Natatorium, having won 11 games straight in their home pool.
As he entered the 2017 season, Niehaus had already left his mark on the program. Niehaus finished his 2016 season with 555 saves for the Orange and Blue, ranking eighth in program history. He reflected on this ranking as one of the highlights of his career thus far, saying, "I think [my favorite part of my career would be] making it into the top 10 rankings last year and getting to go to the NCAA tournament."
Niehaus admitted that, despite his success, he and team face new obstacles with each new season. Specifically, Niehaus commented on how the graduation of various team members each year changes the overall team dynamic.
"Adapting each year to the changes on every team can be difficult. We always lose seniors that contribute to the team that we are also super close to. As a senior, in my final season, I just want to make the most of my last time playing the sport at a competitive level," Niehaus said.
Niehaus and the Orange and Blue will be back in action on Oct. 7, when they will look to continue their successful streak against Wagner and George Washington at home in the Kinney Natatorium.
Stats:
Eighth in program history for career saves
2016: Ended with 555 saves
53 consecutive starts in goal
(Visited 125 times, 1 visits today)