LGBTQ Support List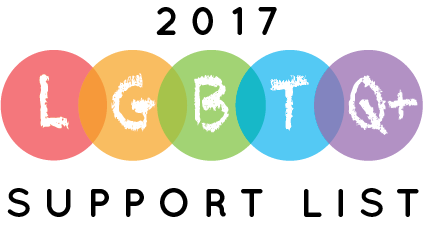 The following individuals have agreed to publicly state their support of the LGBTQ community by being included in the 17th annual list of Faculty and Staff and the 11th list of University students. The individuals have promised to accept and support members of our community who may identify as lesbian, gay, bisexual, trans, queer or another marginalized identity. Furthermore, they have pledged to work to challenge themselves and those around them to actively create a living and learning environment that is supportive and affirming of LGBTQ+ identities.
December 2017 Graduates:
Mandy Olley
Graduate Students:
Somer Dice
Ivan Flores
Terrance Howson
Jessica Khin
Maddie Knott
Sam Lauer
Brenna Powell
Melanie Scurto
Lizandra Suarez
Senior Class:
Levi Adair
Mary Agrusti
Diego Aldana
Celina Antonellis
Aleksandar Antonov
Amanda Battle
Barbara Bell
Meghan Belinsky
Bethany Blass
Maddie Boone
Andrew Capuano
Zack Carlee
Maggie Carlson
Minwoo Cho
Michelle Choe
Kate Chuirazzi
Jason Corriveau
Maggie Cushing
Katherine Doyle
Casey Early
Amarachi  Ekekwe
Lindsay Erickson
Molly Farrell
Caroline Fassett
Lisa M Francomacaro
Jake  Frankel
Paul Freeman
Nicole Fry
Megan Ganning
Maggie  Geisler
Rosalie Goldberg
Gabriella Gomes
Anna Gorman
Sam Greenberg
Amber Habib
Liz Hammond
Will Harpin
Bailey Harris
Joshua Hellerick
Manuela Herrera
Brian Kerlin
Danbee Kim
Lynn Korsun
Uttam Kumaran
John LaLoggia
Taylor  Langtry
Shyla Lintz
Victor LoPiccolo
Emily Malmquist
Sarah Marchegiani
Anna Millar
Shirah  Moffatt-Darko
Aibhlin Moye-Linehan
Naba Mukhtar
Morgan  Muller
Patrick Newhart
Lucas Nicolois
Sharon On
Phi Peinado
Schuyler Platt
Laura Poulton
Maura Powell
John  Quinn
Reid Sanchez
Mikaela Schaller
Jacquelyn Scott
Katie Sidlowski
Christopher Simone
Will Simonson
Avery Snyder
Amanda Solomon
Alden Stone
Jada Tinnin
Katherine Tucker
Taryn Urban
Ryan Wilde
Claire Willig
Kim Winter
Megan Wolff
Junior Class:
Marcus Ademilola
Julian Bartholomee
Charles Beers
Taylor Bernstein
Maren Burling
Nathand Carter
Alec Cartwright
Megan Czekalski
Dabreon  Darby
Katherine Dempsey
Greg Estrella
Jessica Eyster
Liesel  Ferguson
Ariana  Fisher
Ethan Fisher
Megan  Fournier
Neyda  Francisco
Caitlin  Friel
Madeline Galvez
Ryan Gannon
Anna  Gimmestad
Bea Giordano
Madeleine Gouck
Ruby Gould
Andrew Gray
Elizabeth Gray
Kiran Grewal
Quinn Grossman
Eleanor Hagan
Matthew  Harmon
Stephanie Harper
Alix Hashagen
Will Hatheway
Julian Hernandez-Webster
Lina Hinh
Lena Kleinberg
Makayla Lagerman
Samantha Lauriola
Zoe Leshinsky
Alex Lisi
Ellie Lobrano
Jack Logansmith
Jenna Longo
Zilin Ma
Jake Malavsky
Ali Malone
Landers Mayer
Stephen  Mayer
Annan Miao
Elliot Miller
Cyrus Namazi
Niara Nelson
Owen Parent
Ashley Peña
Nigesh Prajapati
Noah Prince
Angela Ri
Hannah  Rickertsen
Eliza Romeyn
Jake Rubin
Troy Schwab
Dominic Scicchitano
Anushikha Sharma
Jeanine Shea
Dalton Stewart
Caroline Sullivan
Eileen Tan
Julianna  Treene
Yiwei  Wang
Madison Weaver
Mitchell Weber
Sasha  Weilbaker
Nick Zarkoski
Midge Zuk
Sophomore Class
Marisa Alemany
Joelle Andres-Beck
Jack Baker
Christopher Barton
Shishir Budha
Carina Calderón
India Carpenter
Clare Cheng
Indigo Clingerman
Kyle Cohick
Sydney Contrino
Elise Covert
Bryce DiRisio
Matt Drescher
Annie Echeverria
Jordan  Ferrari
Mateo Garcia
Mike Gerber
John  Gibbons
Will Greenberg
Erin Hausmann
Emily Hobbs
Bridgette Holland
Chandler Houldin
Rachel Johnson
Charles Krawiec
Caleb Krohn
Katherine Kromer
Owen LaFramboise
Hanzheng Li
Soni  Madnani
Holden Miller
Brandon Mills
Okkar Min
Vincent Minnocci
Sydney Myers
Kathryn Nicolai
William Platt
Brenna Prevelige
Emily Pursel
Gray Reid
Sarah Rippel
Clete Roberts
Sean Sacks
Brooke  Schechter
Esha Sharma
Richard Stover
Billy Wall
Howie Wang
Savannah Weaver
Emmett Wint
First-Year Class
Madeleine Atwood
Sofia Ayuso
Maggie Barton
Shane Beers
Ariel Booker
Jorge Cabral
Yuxuan Chen
Paige Cohan
Mateo Conde
Charlie  Espy
Nate Freed
Alisha 'Gryff' Griffin
Jeff Heim
Jess Hom
Alivia Hunter
Jackson Ingram
Karah James
Rebecca Kelly
Izzy Law
Mengtong Li
Chris Mangano
Carly Masonheimer
Riley McDonnell
Lily McKenna
Brody Mistrot
Megan Munter
Lam Ngo
Anjali Patel
Aung Pyae Phyo
Annie Rozewski
Ethan Sales
Liam Sefchick
Claudia Shrefler
Delia Sipe
Kristin  Smith
Garrett Sommer
Jazmyn  Stokes
Emily Taylor
Laney Treacy
Kunkyi Tsotsong
Andrés Valenzuela
Reagan Withey

President's Office
John Bravman, President
Carol  Kennedy, Director – Office of the President
Provost's Office
Barbara Altmann, Provost
Pamela Benfer, Director of Business Operations – Office of the Provost
Keith Buffinton, Special Assistant to the Provost
Sue Conway, staff
Georgina Dodge, Associate Provost for Diversity, Equity, and Inclusion
Gretchen Fegley, Coordinator for Graduate Studies & Summer Session
Carmen  Henne-Ochoa , Diversity, Equity and Inclusion Fellow
Margaret Marr, Director of Undergraduate Fellowships and Research
Robert Midkiff, Associate Provost
Karen Morin, Associate Provost
Kristen Rarig, OAR Classroom Accommodation and Office Specialist
Amie Reif, Assistant
Marlene Wertz, OAR Coordinator, Office of Accessibility Resources
Admissions
Barbara Cassels, Associate Dean of Admissions
Phoenix Dressler, Information Systems Specialist
Chrissy Findlay, Associate Dean
Ben Kavanaugh, Associate Director of Admissions
Kevin Mathes, Dean of Admissions
Caro Mercado, Associate Dean/Director of Partnerships
Advancement & Info Ser/Gift Process
Gretchen Croteau, Assistant Director
Africana Studies
Jaye Austin Williams, Asst. Professor and C. Graydon and Mary E. Rogers Faculty Fellow

Alumni Relations
Patti Flannery, Associate Director, Alumni Relations
Josh Grill, Executive Director
Todd Leister, Assistant Director for Off-Campus Programming
Megan Shingara, Assistant Director for Off-Campus Programming
Kim Thompson, Associate Director, Diversity and Operations
Kaitlin Wagner, Assistant Director
Animal Care
Gretchen Long, Animal Caretaker
Annual Fund
Mary Marshall, Annual Fund, Programs Manager
Ellice Moore, Specialist, Annual Fund Outreach
Lucille Tarin, Executive Director, Annual Fund
Natosha Walter, Senior Specialist, Annual Fund Outreach
Art & Art History
Melissa Kilgus, Academic Assistant
Janice  Mann, Assoc. Prof.
Athletics & Recreation
Richard Alexander, Associate Head Track and Field Coach
Sam Carlino, Assistant Coach
Kelly Cook, Head Women's Soccer Coach
Annamarie Ginder, Compliance Coordinator
Maisha  Kelly, Sr. Associate AD
Joey Lye, Head Softball Coach
Mamie Murphy, Coordinator of Intramural Sports/Late Night at KLARC
Remington Steele, Head Women's Lacrosse Coach
Francis Stripp, Men's Assistant Crew Coach
Mari  Sundbo , Asst. Coach Women's Rowing
Anna  Wills, Assistant Field Hockey Coach
Dan Wolleben, Head Coach – Men's Crew
Athletics Development
Bruce Myers, Head Men's Tennis Coach
Biology
Morgan Benowitz-Fredericks, Associate Professor
Elizabeth Capaldi, Associate Prof of Biology and Animal Behavior
Moria Chambers, Assistant Professor of Biology
Mitchell Chernin, Professor
Ken Field, Professor
Julie Gates, Associate Professor
Jessica Hall, Visiting Assistant Professor
Mark Haussmann, Professor
Matthew Heintzelman, Associate Professor and Chair
Steve Jordan, Associate Professor
Chris Martine, David Burpee Professor
Angela McDonnell, Post-doctoral fellow
Matt McTammany, Associate professor
Leocadia Paliulis, Associate Professor
Greg Pask, Assistant Professor
Marie Pizzorno, Associate Professor
DeeAnn Reeder, Professor
Cindy  Rhone, Animal Caretaker
Rebekah Stevenson, Prof
Emily Stowe, Associate Professor of Biology
Kate Toner, Lab director
Gwen Williams, Visiting Assistant Professor

Biomedical Engineering
Donna Ebenstein, Associate Professor
Eric Kennedy, Associate Professor
Kim Schon, Academic Assistant
Bucknell Dining
Brittany Lynch, Marketing Manager
Jeff Van Sant, Assistant Director Resident Dining
Bucknell Student Health
Melissa Allen, RN-Student Health Educator
Lisa Malick, CMA
Catherine O'Neil, MD
Tonya Walter, Nurse
Tanya Williams, University Nutritionist
Bucknell University Press
Pam Dailey, Managing Editor
Campus Activities & Programs
Amy Beward, Office Coordinator
Kari Conrad, Associate Dean
Wendy O'Hara, Office Assistant
Brent Papson, Director of Campus Activities and Student Media
Campus Box Office
Jamie Brouse, Campus Box Office Manager
Gregory Marconi, Campus Box Office Assistant Manager
Career Development Center
Megan Adams, Prog Dir
Sarah Bell, Senior Associate Director
Julee Bertsch, Alumni Career Services
carole bourgeacq-hardt, Program Director, Field Trips/Industry Education
Emily Dietrich, Assistant Director, Externship Program
Pam Keiser, Executive Director, Career Services
Tess Marsh, CDC Coordinator
Dianne McDonald, Pre-Law Advisor
Alison Ordonez, Associate Director
Rachel Redmond, Assistant Director-Alumni Career Services
Megan Wolleben, Assistant Director
Center for Sustainability & Environment
Jessica Newlin, Interim Executive Director
Chaplains & Religious Life
John Colatch, University Chaplain
Rabbi Chana Leslie Glazer, Chaplain for Jewish Community
Liz Loss, Program Coordinator of Jewish Life
Chemical Engineering
Elizabeth Clark, Academic Assistant
Erin Jablonski, Associate Professor
Margot Vigeant, Professor

Chemistry
Dee Casteel, Associate Professor and Chair
Patrick Martino, Professor
Molly McGuire, Assoc. Professor
Rebecca Switzer, Assistant Professor
Civic Engagement
Kyle Bray, Assistant Director of Service-Learning
Janice  Butler , Director of Civic Engagement
Lynn Pierson, Assistant Director
Civil and Environmental Engineering
Stephen Buonopane, Associate Professor
Amy Downs, Lead Academic Assistant, College of Engineering
Kevin Gilmore, Associate Professor
Deborah Sills, Assistant Professor
Classics and Mediterranean Studies
Janet Jones, Professor
Stephanie Larson, Professor
Kris Trego, Assoc. Prof.
College of Arts & Sciences, Deans' Office
M. Lynn Breyfogle, Associate Dean/Professor of Mathematics
Wendy Kostevicki, Office Coordinator
Rich Robbins, Associate Dean
College of Engineering, Deans' Office
Wade Hutchison, Development Engineer
College of Management, Dean's Office
Mihai Banciu, Associate Dean of Faculty
Chantal Gadoury, Academic Assistant
Missy Gutkowski, Asst. Dir of Experiential Programs
Communications
Adrienne Beaver, Graphic Designer
Josie Fertig, Graphic Designer
Andy Hirsch, Chief Communications Officer
Debbie Hirsch, Graphic Designer
Emily Paine, Communications Photographer
Ellen Robinson, Web Support Specialist
Community & Leadership
Jackie  Cetera , Director of Residential Education
Tucker Copi, Community Director
Matt Ferguson, Director of Fraternity & Sorority Affairs
Rebecca Haupt, Community Director
Ashley Hubler, Community Director
Mary Klebon, Assistant Director of Fraternity & Sorority Affairs
Emily Long, Director of First-year Experience
Max Shirey, Community Director
Comparative Humanities Program
John Hunter, Associate Professor
Computer Science
Susan Baish, Visiting Associate Professor
Xiannong Meng, Professor of Computer Science
Evan Peck, Assistant Professor
April Ritter, Academic Assistant
Counseling & Student Development
Eric Affsprung, Staff Psychologist
Isaac Brandt, Psychologist
Kelly Kettlewell, Director, Counseling & Student Development Center
Paul Rizzo, Staff Psychologist
Marina Shafran, Associate Director
Kelly Shaw, Staff Psychologist
Dean of Students, Diversity, Equity and Inclusion
Denelle Brown, Associate Dean of Students
Miriah Royal, Office Coordinator
Dean of Students, Office of
Amy  Badal, Dean of Students
Kate Grimes, Title IX Coordinator
Lewis Marrara, Asst. Dean of Students
Laura Pantano, Associate Dean of Students
Rachel Stewart, Interpersonal Violence Prevention Coordinator
Development
Ann Benvenuto, Associate Director, Prospect Research & Management
Mark Elliott, Senior Development Advisor
Kathleen Graham, Associate VP Development and Alumni Relations
Cynthia Janesch, Dir., Office of Prospect Research & Management
Sarah Kline, Assistant Director of Prospect Research and Management
Amy Levan, Director, Advancement Services
Barbara  Martin, Regional Director Leadership Gifts
Kylie Martin, Manager of Athletics Development
Rhonda  Miller, Assistant Director of Development
Donna Padilla, Annual Giving Officer
Abbey Scheckter, Senior Assistant Director, Regional Development
Mary Ann Sigler Stanton, Associate Director, Leadership Gifts
Barbara Sturges, Sr. Regional Director, Leadership Gifts
Donor & Volunteer Recognition
Brianne Croteau, Assistant Director, Donor & Volunteer Relations
Amber Fetterolf, Manager
East Asian Studies
Julie Guinn-Bailey, Academic Assistant
Erik Lofgren, Associate Professor
Economics
Nina Banks, Associate Professor of Economics
David Kristjanson-Gural, Professor
Kamilah Williams, Visiting Assistant Professor
Education
Sue Ellen Henry, Professor/Director, TLC
Sarah MacKenzie-Dawson, Associate Professor
Electrical & Computer Engineering
Mohammad Fanaei, Dr.
Joe Hass, Asst Prof
David Kelley, Associate Professor
Rich Kozick, Professor
Melanie Scurto, Academic Assistant
English
Glynis Carr, Associate Professor
Rafe Dalleo , Associate Professor
Ghislaine McDayter, Professor of English
Robert Rosenberg, Associate Professor
Virginia Zimmerman, Professor of English
Environmental Health & Safety
Jeremy Fanning, EH&S Coordinator
Carol Pavlick, EH&S Program Manager
Events Management Office
Vickie Baker, Information Services Assistant
Katie Hanes, Scheduling and Events Coordinator
Candice McGaw, Assistant Director of Events
Maredith Spangler, ​ Scheduling and Events Coordinator
Facilities
Brian Fritz, Assistant Director, Building Maintenance & Projects
Mike Patterson, Executive Director, Facilities
Merritt Pedrick, Director of Operations
Donald  Rager  Jr, Control Tech
Mary Schramm, Operations Area Supervisor Center Campuss
Chris Small, Senior Associate Director
John Testa, Grounds and Labor Supervisor
Finance Office
Amy Bennett, Finance Office Specialist
Dennis Swank, Assoc. VP of Finance
Lori Wilson, Director of Business Services
Financial Aid
Allison Kuhn, Assistant Director
Andrea Leithner Stauffer, Director of Financial Aid
Jamie Lowthert, Associate Director
General Counsel
Amy Foerster, General Counsel and Chief of Staff
Geography
Duane Griffin, Assoc. Prof.
Alicia Hayashi Lazzarini, Postdoctoral Fellow
Ben Marsh, Professor
Paul Susman, Professor
Geology
Mary Beth  Gray, Professor
Global & Off-campus Education
Julie Rowe, Operations Manager
Marguerite Santorine, Global Education Advisor
Griot Institute
Carmen Gillespie, Professor of English/Director, Griot Institute
History
Hannah Enterline, Academic Assistant
Martha Verbrugge, Professor Emerita
Housing Services
Glenn Fisher, Director Card Services & Student Transit
Human Resources
Kelley Adams-Verge, Benefits & Wellness Manager
Lisa Adams-Verge, Training and Organizational Development Manager
Cindy Bilger, Director of HRIS and Benefits
Kelly Dinan, Recruitment Consultant
Nancy Foster, Executive Assistant
Martha Hass, HRIS Specialist
Institutional Research & Planning
Laura Winger, Reports Coordinator/Analyst
International Relations
Emma Gaalaas Mullaney, Assistant Professor
Jessica Peet, Visiting Assistant Professor
Tom Travis, Professor emeritus
International Student Services
Jennifer Figueroa, Director
Bibiana  Hernandez-Bello, Assistant Director of ISS
Languages, Cultures, & Linguistics
Pamela Glass, Academic Assistant
Renée Gosson, Associate Professor of French & Francophone Studies
Jim Lavine, Professor of Linguistics
Helen Morris-Keitel, Associate Professor of German Studies
LGBTQ Resources
Bill McCoy, Director
Library & Information Technology
Jey Bailey, Technology Support Specialist
Param Bedi, Vice President
Chris Bernard, Chief Information Security Officer
Leo Botinelly, Programmer Analyst
Mary Ann Burkland, Asst. Director for Technology Support
Jeffrey Campbell, Event Tech Services
Tom Carl, Classroom Support Technician
George Casper, Tech Support
Deb Cook-Balducci, Digital Pedagogy Specialist
Eir Danielson, Temporary Project Archivist
Brianna Derr, Digital Pedagogy & Scholarship Specialist for Video
Todd Downs, Classroom Support Analyst
Stephanie  Farnsworth, Assistant Director, Network & Telephony
Jeremy Fertig, Systems Integrator
Ken Flerlage, Business Intelligence Functional Architect
Todd Fogle, Senior Technology Support Specialist
Nancy Frazier, Instructional Services librarian
Matthew  Gardzina, Director, Digital Pedagogy & Scholarship
Janine Glathar, GIS Specialist
Jesse Greenawalt, Event Support tech
Rob Guissanie, Senior Technology Support Specialist
Jonathan Hagofsky, Tech. Support Specialist
Jill Hallam-Miller, Blended Learning Librarian
Jennifer Harper, Assoc. Dir. Technology Infrastructure
Leslie Harris, Digital Pedagogy Specialist
Dan Heuer, Head of Discovery & Access Services
Bud Hiller, Manager Technology Desk
Martha Holland, Reference Services manager
Benjamin Hoover, Evening Library Services Specialist
Tracy Hower, Executive Assistant
Susanna Jackson, Project Manager
Harold Kerlin, Technical Operations Analyst
rita malick, programmer/analyst
Daniel Mancusi, Assistant Director, Development
Crystal Matjasic, Assistant University Archivist
Kathleen McQuiston, Director of Research Services & Information Literacy
Pam Mitchell, Administrative Asst
Stephen O'Hara, Director of Technology Services
Isabella O'Neill, Head, Special Collections/University Archives
Courtney Paddick, Arts & Humanities Librarian
Jamie Piperberg, Technology Support Specialist
Carrie Pirmann, Social Sciences Librarian
Cindy Ray, Ass't Dir., Classroom Technology Support
Melissa Rycroft, Manager, Technology Training
Brandon Seymore, Network Administrator
Emily Sherwood, Assistant Director, Digital Pedagogy & Scholarship
Jason Snyder, Librarian/Manager of Communications and Outreach
Jeff Tolbert, Postdoctoral Fellow in Digital Scholarship
Tammy Troup, Cataloging and Metadata Coordinator
James Van Fleet, Research Services Librarian
Lisa Veloz, Director of Project & Initiative Management
Kirsten Walter, Support Coordinator
Kevin Willey, Director of Enterprise Systems
Mark Yerger, Chief Technology Officer
Management Faculty
Ryan Burg, Visiting Assistant Professor

Mathematics
KB Boomer, Assoc Professor
Tom Cassidy, Department Chair
Emily Dryden, Professor
Abby Flynt, Assistant Professor
Sharon Garthwaite, Associate Professor
Peter McNamara, Professor
Mechanical Engineering
M. Laura Beninati, Associate Professor
Wendelin Wright, Professor
Multicultural Student Services
Rosalie Rodriguez, Director of Multicultural Student Services
Music
Bethany Collier, Associate Professor
Barry Long, Associate Professor
Ryan Malone, Assistant Professor
Christopher Para, Associate Professor of Music / Conductor, Bucknell Orchestra
Marcus Smolensky, Dr.
Office of Sponsored Projects
Robert Gutierrez, Executive Director
Parents Fund and Family Programs
Amy Baker, Program Director, Communications
Aleece Butler, Program Director, Outreach Event
Philosophy
Maria Balcells, Asst. Professor
Adam Burgos, Postdoctoral Fellow
Jason Leddington, Associate Professor
Sheila Lintott, Chair
Matthew Slater, Associate Professor
Gary Steiner, Presidential Professor
Physics and Astronomy
Michele Thornley, Associate Professor and Chair
Ben Vollmayr-Lee, Associate Professor
Political Science
Soundarya Chidambaram, Assistant Professor
Chris Ellis, Associate Professor
Tony  Massoud, Associate Professor
Amy McCready, Associate Professor
Scott Meinke, Associate Professor of Political Science
Atiya Stokes-Brown, Associate Professor
Psychology
Bill Flack, Professor
Andrea Halpern, Professor of Psychology
Jasmine Mena, Assistant Professor
Kevin Myers, Professor
Jennie Stevenson, Assistant Professor
Public Safety
Steve Barilar, Chief
Selena Blue, Manager of Communications
Brenda Housner, Office Assistant/Budget Coordinator
Corey Jones, Lieutenant
Douglas Lauver, Capt
Publications, Print & Mail
Donna Glass, Graphic Designer
Edye Newman, Office Assistant
Kristi Randall, Publications Technician
Dennis Wilbur, Mail Services Team Leader
Registrar's Office
Tim Kracker, Associate Registrar
Sarah Paris, Transfer Records Coordinator
Religion
John Penniman, Assistant Professor of Religious Studies
Carol Wayne White, Professor, Philosophy of Religion
Residential College Program
Kelly Finley, Program Coordinator
Samek Art Museum
Erin Bradford, Museum Registrar
Andy Gabrysiak, Preparator and Operations Coordinator
Emily  Izer, Public Programs and Outreach Manager
Rick Rinehart, Director
SBDC Administrative Program
Denny Hummer, Incubator Manager
Steven  Stumbris, Director
Sociology & Anthropology
Deborah Abowitz, Professor
Karen Altendorf, Visiting Assistant Professor
Paul Noguchi, Emeritus Professor of Anthropology, Emeritus Professor of East Asian Studies
Ned Searles, Chair and Associate Professor
Spanish Department
Fernando Blanco, Associate professor of Spanish
Elisabeth Guerrero, Associate Professor and Chair
Collin McKinney, Associate Professor
Stadler Center for Poetry
Katie Hays, Acting Director
David Winter, Stadler Fellow
Student Mail Services
Mindy Yost, Mail Services Assistant
Teaching & Learning Center
Brian Gockley, Assistant Director
Laura Lanwermeyer, Assistant Director
Theatre & Dance
Paula Davis, Associate Professor
Anjalee Hutchinson, Chair, Department of Theatre and Dance
Kelly Knox, Associate Professor
Dustyn Martincich, Associate Professor
Bryan Vandevender, Assistant Professor of Theatre
Elaine Williams, Professor
Weis Center
Johanna Kodlick, Operations Director
Lisa Leighton, Marketing and Outreach Director
Kathryn Maguet, Executive Director
Rachel Martine, Artist Liaison
Women & Gender Studies
Coralynn Davis, Professor of Women's and Gender Studies and Anthropology
Erica Delsandro, Visiting Assistant Professor
Susan  Reed, Director, CSREG and Assoc. Prof. Women's and Gender Studies
Martha Shaunessy, Academic Assistant
Women's Resource Center
Kelsey Hicks, Director
Writing Center
Margaret Cronin, Writing & Teaching Consultant
Loren Gustafson, Writing and Teaching Consultant
Sabrina Kirby, Writing and Teaching Consultant
Megan Mulligan, Writing Consultant
Deirdre O'Connor, Director
(Visited 2,471 times, 1 visits today)