Athlete of the Week: Will Bordash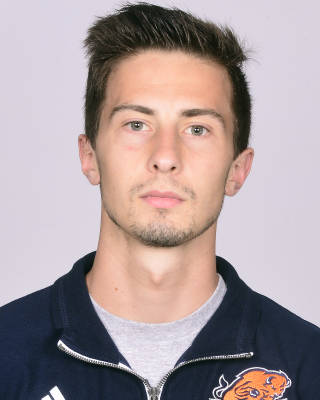 When Will Bordash '18 finished in the top 20 runners competing in the 5.2 mile race at the recent Penn State National Open, his placement was no surprise; his performances this year have been stellar, and his last season for the Orange and Blue is proving to be one that will leave a permanent mark on the men's cross country program.
"It felt good to continue to have a consistent season. The race went out hard and Drew and I hung in there and played it a little smart. Running that time of Penn State is a good confidence booster for me as well as everyone else who raced well on the team," Bordash said.
Bordash is no stranger to success, running his fourth year for the Bison with a first place finish at the Bison Open, the season opening tournament. Reflecting on that moment, Bordash said, "the best moment [of the season] so far would probably be crossing the line at the Bison Open at the same time with three other teammates. Even though we held some people out, the fact that we held people out and still had that result showed me some of the potential we have. I plan on having better moments in the coming weeks, though, as we head into the championship meets."
Though he has plenty of the season left in front of him, Bordash is a veteran runner for the Bison, having already accomplished many goals with the Orange and Blue.
"I would say that the ending to last year's cross country season might be my favorite part of my career so far. The team raced incredibly well and our 6th place finish was something we have not been able to accomplish since the early 2000s." Bordash was also named All-Region, signifying the first time since 2012 that this honor was given to a Bison.
Though he has found success throughout his career, he has faced obstacles as well.
"My greatest challenge has been staying healthy. I have missed some championships or have not been anywhere near 100 percent due to some injuries or sickness. The key for my training is to be consistent; and when you are dealing with something like that, it is hard to be on top of your game every day," Bordash said.
As the season rolls forward, Bordash commented on what he looks forward to most in the coming weeks with the team.
"All the work that we have been doing as a team for the past year all comes down to these two meets. There is some amazing competition in the Patriot League this year, so we need to perform if we want to achieve the goals that we know are in [our] reach. It's weird for me to think about how this is the last chance for me to line up with my team for a championship cross country race. It's hard to replicate that feeling," Bordash said.
Bordash and the Bison will be back in action on Oct. 28th at the Patriot League Championships in Bethlehem, Pa.
STATS:
All-East (2017, 4×8 relay)
Second Team All-Patriot League (2016)
All-Region (2016)
Patriot League Rookie of the Year (2014)
(Visited 124 times, 1 visits today)