Athlete of the Week: Colin Jonov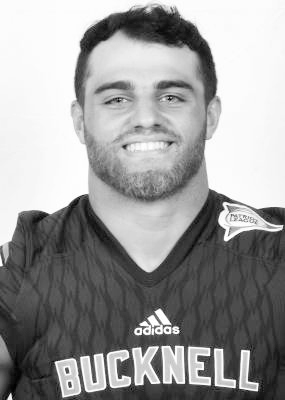 As Colin Jonov '18 took the field for Bison football on Oct. 21, he was unaware of how important his contributions would be for the team that day. Returning an intercepted pass 95 yards for a game-winning touchdown in overtime against Lafayette, Jonov's impressive play garnered national attention for the Bison and was aired on multiple television networks. His standout performance is sure to be remembered by all, as it was the sixth-longest touchdown in school history.
"It was a great feeling to be able to contribute to the win by scoring in overtime," Jonov said. "It's an indescribable feeling and I am just very blessed and humbled to play a big part in a much-needed win for this team."
As he thought about the Bison's season as a whole, Jonov identified the game with Lafayette as one of his favorite moments this season.
"I think this game in general was the best moment for our team so far this season. It was against a big rival of ours, Lafayette, and it was our first league win this year. We had amazing performances across the board as a team and the ability to find a way to win such a hard-fought game set the tone for the rest of league play, " Jonov said.
While he is clearly a team player and reflected fondly on all the team's accomplishments, he also noted that his personal favorite career moment was this past weekend's play.
"My favorite part of my career [thus] far was the interception this past weekend for a touchdown. It was by far the most meaningful play of my career, and just the celebration with all my teammates in the end zone is something I'll never forget," Jonov said.
This moment was particularly special for the senior, as he struggled with a substantial injury during his junior campaign, returning to the field for his senior season after undergoing a difficult recovery.
"The greatest challenge in my career was overcoming ACL surgery I had my junior season. It's just such a long process that involved a lot of patience," Jonov said.
Looking ahead, Jonov hopes that the Orange and Blue can ride this momentum through to the postseason.
"I am looking forward most to competing for the Patriot League Championship and making a run in the playoffs," Jonov said.
The Orange and Blue will be back in action on Oct. 28 when they face Colgate on the road.
(Visited 113 times, 1 visits today)