Athlete of the Week: Tyler Peterson '19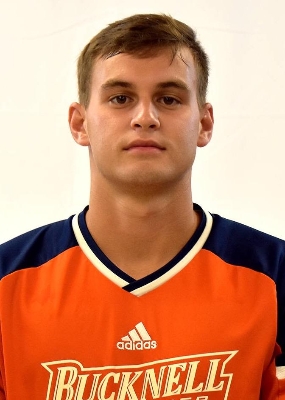 Now in his third season for the Orange and Blue, men's soccer co-captain Tyler Peterson '19 has been a standout player on the field, most recently gaining attention after being one of three Bison named to the All-Patriot League Third Team for the 2017 season.
"It felt good to be recognized individually for the award; however, there were several other guys that play right next to me that also deserve the award," Peterson said in humble fashion.
Peterson's contributions over the past few years are quantifiable through the minutes spent on the field – though he was injured in his first year, he still played in 12 games on the season. In his sophomore campaign, Peterson tallied the third-highest amount of minutes played on the team, proving his value on the pitch. Contributions such as a converted penalty kick and assist served as further evidence that Peterson's presence is important for the Bison in competition.
As he reflects on the current season, during which he has served as the also serving as team co-captain, Peterson commented on the late-season play for the Orange and Blue and his favorite moments.
"So far it has been our stretch of games to end the season. We played several tough games all back to back and managed to win three of those games and tie one of them," Peterson said.
Looking at his career as a whole, Peterson commented on his role as co-captain.
"My favorite part of my career so far was being named captain of the team. I like being able to lead the team on the field," Peterson said. Based on the time he spends on the pitch for the Orange and Blue as well as his ability and appreciation for the leadership role, his captainship is undoubtedly an important aspect of the Bison's play.
Peterson acknowledges that performing in the Patriot League is a competitive experience for the team. Knowing this, he remains excited for the rest of his career as a Bison.
"The greatest challenge of my career has definitely been staying consistent. In a league with so many ups and downs, this is pretty difficult. [However], I am looking forward to working towards a Patriot League Championship!"
(Visited 248 times, 1 visits today)