Announcing the Spring 2018 Editorial Board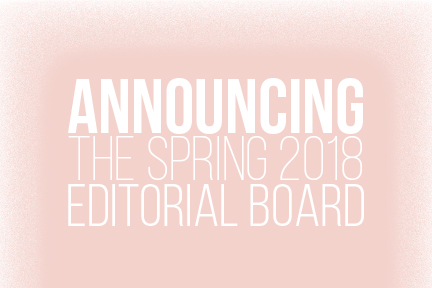 The Bucknellian Editorial Board held elections for positions for the spring semester of 2018 on Nov. 12. The new executive board will be headed by Elizabeth Worthington '18 as Editor-in-Chief. She will be joined by Ruby Gould '19 as Print Managing Editor. Lynn Korsun '18 will continue in her current position as Print Presentation Director. Graphics Manager and Web Managing Editor Jared Shapiro '20 will also continue in both positions.
Investigative News Editor Kathryn Nicolai '20 was elected to News Content Editor. Julie Spierer '19 was reelected to Special Features Editor. Spierer was also slated as an Assistant Social Media Manager with Lindsay Erickson '18. Current Photography Co-Editor Erin Ditmar '18 will continue in her position.
New additions to the editorial board are as follows: Haley Mullen '19 as Assistant News Editor, Brittany Willwerth '20 as Sports Co-Editor, and Justin Koss '19 as Photography Co-Editor.
Other returning members of the Editorial Board include Opinions Editor Sam Rosenblatt '20, Satire Editor Jon Meier '20, Sports Co-Editor Elise Covert '20, News Layout Editor India Burns '21, Sports Layout Editor Schuyler Platt '18, Opinions Layout Editor Olivia Braito '19, and Special Features Editors Fallon Goldberg '20 and Janey Woo '20.
The current Editorial Board looks forward to transitioning newcomers into their elected roles and to filling the remaining Editorial Board positions. Positions that were not slated include: Investigative News Editor, Assistant Satire Editor, Assistant Special Features Editor, Assistant Opinions Editor, and Web Presentation Director. Please contact [email protected] for further information regarding position openings.
(Visited 291 times, 1 visits today)