Athlete of the Week: Kaitlyn Slagus '19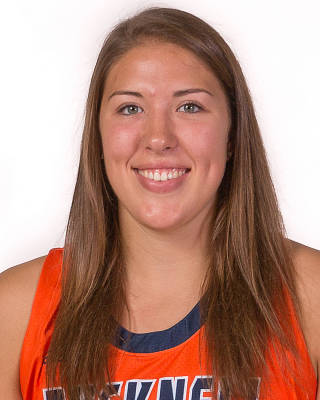 As the season sets off for women's basketball, Kaitlyn Slagus '19 is proving to be a key contender on the court for the Orange and Blue. In her first few games for the Bison this season, Slagus has posted multiple double-doubles, bringing her tally to 15 over the course of her career.
"It felt good to have been able to come out on a strong note and help the team get the first two wins of the season. At the same time, it's important to keep in mind that we still have a whole season ahead of us, with a lot of stuff to work on," Slagus said.
While Slagus' performances so far this year have been particularly impressive, this is nothing new for the veteran junior. In her previous two seasons, Slagus has experienced many defining moments.
"There have been a few crazy things that happened over my past two years including my buzzer beater against Lehigh my freshman year, and winning the Patriot League Tournament in overtime last season," Slagus said.
"If I had to pick one, I would have to go with winning the Patriot League tournament. It was such a fun season so being able to celebrate last year with a championship win with all my teammates was an incredible part of these past two years and something I hope to relive in these final two seasons," she continued.
Slagus was named Patriot League Rookie of the Year after her first year, and Second Team All-Patriot League after her sophomore year, when she started all 33 games for the Bison, winning three Patriot League Player of the Week awards.
"I think one of the greatest challenges for me was the change in the intensity of play to the college game. I remember feeling so lost the first couple months of my freshman year and thinking that I was never going to figure it out."
"Thinking back to it now, it's crazy to think about how all of a sudden it just started making sense, and that's when I started figuring things out," Slagus said.  Now in her third year on the team, Slagus has certainly figured things out and become a standout player not only among her teammates, but also amongst the entire Patriot League," she continued.
Slagus is excited to have two more seasons to represent the Orange and Blue on the court. "Over these final two season I'm really looking forward to seeing how much more success we are going to be able to have. Winning the Patriot League tournament at Sojka last season is defiantly something I would love to repeat again before I graduate," Slagus said.
The women's basketball team will be back in action on Nov. 18 when they travel to Philadelphia to face Drexel.
STATS:
Second Team All-Patriot League
2016 Patriot League Rookie of the Year
Patriot League All-Rookie Team
4-time Patriot League Player of the Week
(Visited 91 times, 1 visits today)