Athlete of the Week: Zach Thomas '18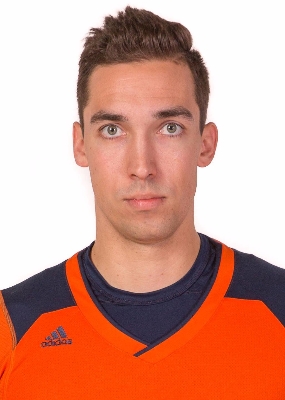 Scoring a stunning 38 points in just one game, Zach Thomas '18 has been explosive for the men's basketball team as the Bison kick off their season. Now in his senior campaign and a co-captain for the 2017-2018 season, Thomas has certainly shown his leadership on the court, and was named to the Preseason All-Patriot League team.
"It felt good to play well; of course I would have liked to been able to pull out a couple more wins. We had three very winnable games at Monmouth, North Carolina, and Maryland. Those experiences will only help us get better as a team moving forward," Thomas said. Each of the three games mentioned by Thomas reflect the Bison's competitive play even outside of the Patriot League so far this season. Despite those difficult matches, the team has been finding more success with big wins versus teams such as Stony Brook, where he scored his 38 points.
"So far the best moments of the season have been the winning streak we are currently on," Thomas said. "Playing on the big stages against ACC, SEC, and BIG 10 schools were also cool experiences."
His success this season is not unprecedented; Thomas has been making significant contributions to the team since his freshman year. After becoming a staple on the court for the Bison, he became a force to be reckoned with inside the Patriot League. At the end of the 2016-2017 season, Thomas was named to the First Team All-Patriot League, in addition to being named Tournament MVP for the Patriot League.
"My favorite memory during my career was definitely the Patriot League Championship last year at Sojka," Thomas said. After winning the tournament, the Bison earned a ticket to the NCAA tournament, which Thomas also reflected on as an incredible experience.
Thomas acknowledged that balancing academics and athletics is a challenge all athletes at the school face.
"My greatest challenge has been balancing biomedical engineering with basketball. My schedule has been very busy for the last four years and my time management skills have gotten much better as a result," Thomas said.
In addition to recognizing his individual success, Thomas noted that his favorite part of his career was having the opportunity to play as a member of the team.
"Now, I am looking forward playing with a close-knit group of teammates that are like my brothers.  Hopefully winning another championship and returning to the NCAA tournament to make some noise!"
(Visited 147 times, 1 visits today)