Athlete of the Week: Stephen Brown '18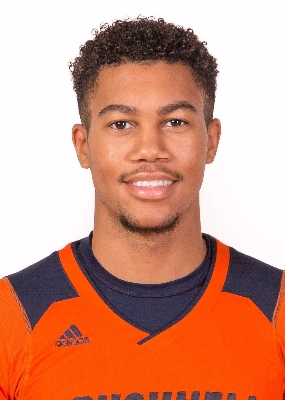 In his final campaign for the Orange and Blue, Stephen Brown '18 has been a force to be reckoned with on the court. As the season ramps up into full swing, Brown's contributions have not gone unnoticed. His recent performance in the team's league win over Holy Cross stood out as he racked up stats across the board, finishing with 10 points, six rebounds, four assists, three steals, and a block.
As team co-captain for the second year in a row, Brown appreciates the impact he is able to make for the Bison.
"It feels good to have an impact on the court. To be able to affect the game on both sides is something every player strives to do and I'm glad I am able to contribute to the team's success," Brown said. As seen through his well rounded stats, Brown's ability to contribute to both the offensive and defensive sides of the ball has been crucial to the Orange and Blue's success.
Basketball has always been an important part of Brown's life, and it became particularly special in this season of his college career. On Nov. 15 the Bison traveled to compete against UNC, a game Brown regards as one of the highlights of his senior year so far. Though the Bison ended up losing the contest 81-93 to the Tar Heels, Brown was proud of the team's fight against such a high profile opponent.
"The best moment for me so far would have to be our game at UNC. That game was more than just the game itself," Brown said. "I grew up watching UNC games and went to a few games as a kid, and to be able to play in such an arena with so much history was truly a blessing in itself."
While Brown has certainly enjoyed success during his college career, it has not come without sacrifice.
"My greatest challenge for me during my career here at Bucknell would have to be not being able to see my family and friends throughout the season… in my first year, it was a challenge for me because I was used to seeing them all the time, but as the years went on, I became more comfortable being here and not seeing my family as often," Brown said. Though this has proven difficult, his dedication to the game has certainly carried him, as he currently ranks fifth on the University's career assists chart and 36th in career scoring.
Brown also fondly reflected on the team's trip to the NCAA tournament at the end of last season, and he spoke about the potential for the Bison to return this year.
"My favorite part of my career so far is winning the Patriot League Championship last year. Every college basketball player dreams of winning their league and getting the opportunity to play in the NCAA tournament was a blessing," Brown said. Looking ahead, he is confident in his team's abilities to fight for the same fortune.
"What I am looking forward to the most is getting back to the NCAA tournament. It is definitely one of our team goals and would be awesome to go to the tournament two years in a row along with winning the Patriot League Tournament again."
Brown and the Bison will be back in action when they go on the road to face Boston University at 12 p.m. on Jan. 28.
STATS:
2 year team co-captain
471 career assists (ranks 5th all-time)
1,058 career points (ranks 36th all time)
(Visited 220 times, 1 visits today)