Athlete of the Week- Lindsay Smalec '19, Women's Swimming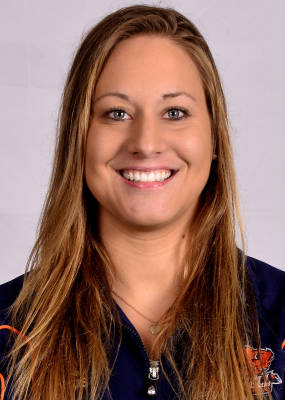 Throughout her career, Lindsay Smalec '19 has enjoyed success in the pool. Most recently, Smalec placed first at the Navy Invite in the 100 freestyle, competing in a field of 38 other swimmers. Despite her individual success in the arena, Smalec shines as a team player. In fact, when asked to reflect on her impact on the Bison thus far, Smalec deflected questions about her own success and displayed her team-oriented attitude.
"Getting the chance to compete for such a successful team in the very reputable Patriot League is something I will be forever grateful for," Smalec said. "I owe it to my teammates and coaches to give my best effort every chance I can get."
Her humility was also reflected as she spoke about her favorite moment of the season for the Bison.
"The best moment of our season so far has been winning our dual meet against Boston University in October and then beating Lehigh University in our dual meet in January. Both teams have very talented swimmers and divers, so regardless of the final score, getting the chance to compete against them makes us even better as a team. Coming out of those two meets successfully gives us a lot of confidence and excitement as our championship season approaches," Smalec said.
She holds the program's second fastest time for the 100 fly event and the sixth fastest time for the 200 fly. With such resounding success during her college campaign, Smalec cites her commitment to the team as an integral part of her motivation throughout her career.
"My favorite part of my swimming career has definitely been committing and signing to swim for Bucknell," Smalec said. "Not many people get such an opportunity, so I use this as motivation every day to show just how grateful I am."
While she admits that swimming for the Bison is not always an easy feat and that there are everyday challenges, such as balancing demanding academics and maintaining a healthy social life at the University, Smalec still looks forward to the rest of the season for the Orange and Blue.
"With our championships coming up in the next few weeks, I am looking forward to watching my teammates compete and seeing all their hard work pay off," Smalec said.
Smalec and the women's swimming and diving team will be back in action when they will travel to the Patriot League Championships in Annapolis, Maryland on Feb. 14.
STATS:
2nd in program history: 100 fly (55.86)
Sixth-best time in the 200 fly (2:04.66)
Two-time member of the Patriot League Academic Honor Roll
(Visited 382 times, 1 visits today)