Athlete of the Week: Kyi English '19, Women's Basketball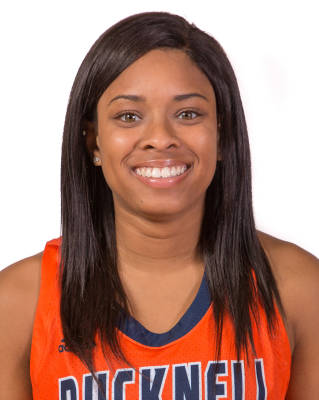 Now in her third season for the Bison, Kyi English '19, guard on the women's basketball team, has been a consistently strong offensive force to contend with. Her ability to put points on the board for the Orange and Blue has been crucial this season and has helped the team to a 15-8 overall record thus far. She currently leads the team in assists, averaging 2.7 per game, ranking tenth in the Patriot League in that category.
"It feels amazing to have such an impact on the court as a junior leader. I love being pushed and challenged to be my very best by my teammates and coaches," English said.
English's standout presence on the court is nothing new this season; over the course of her first two years for the Bison, English was awarded a spot on the Patriot League All-Rookie Team, was named Patriot League Rookie of the Week twice, and earned a spot on the Patriot League All-Tournament Team Roster. All of these accomplishments represent the strong start English was able to have since first stepping onto the court for the Orange and Blue, although she admits that it was not easy transitioning to the collegiate level.
"I would say the greatest challenge for me during my career here at Bucknell was adjusting to the pace and strength of the game during my first year," English said. Her performances on the court prove her ability to overcome this challenge and become a truly important team member for the Bison.
Beyond her personal growth, English has enjoyed being a part of the team over the course of her career.
"My favorite part of my career so far has definitely been winning a Patriot League Championship. That was truly an amazing experience that I will never forget," English said of the team's 2017 Patriot League Tournament win and trip to the NCAA Tournament last March.
Reflecting on the current season, English has been pleased with how the talent from last year's championship-caliber team has carried over into this year.
"The best moment of my season this year was when we beat our school''s record for 3's made in a game against Lafayette. This was a great team win because we worked together and moved the ball well to get good open looks. Everyone contributed and it showed how hard we have been working throughout this year," English said.
As she looks forward, English has high hopes for the rest of her season and career. She is excited for further challenges the team will face, and is eager to find more success for the Orange and Blue.
"I am looking forward to working hard, winning, and having fun playing the game I love with my best friends," English said.
2017-18 STATS
10.1 points per game
2.7 assists per game
1.1 steals per game
(Visited 339 times, 1 visits today)